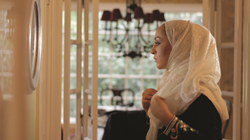 (PRWEB) March 20, 2014
In commemoration of the UN's International Women's Day, the University of Michigan at Dearborn will be hosting a special screening of the groundbreaking new documentary film 'Honor Diaries', which shows the painful reality of "honor violence" - violence committed mainly against women and girls.
For the first time on film, "Honor Diaries" takes an intimate look at 9 women's rights champions with roots in Muslim-majority societies who have broken the silence on crimes of "honor" in order to save their sisters in America and around the world. As they struggle against honor killings, acid attacks, female genital mutilation, forced child marriages and abuse, these brave activists give a glimpse into a world often hidden from and misunderstood by outsiders.
The screening will take place on March 27th at 5:30pm at the House of Maize and Blue located in the Union on the campus of UM-Dearborn. It will feature Muslim women from the film and noted philanthropist Karen Davidson.
"The power and impact of women is ingrained in the very fabric of American culture - yet there are some women, even here in America, who do not get to fully experience the freedom to actualize their potential," said Karen Davidson, who will speak at the event. "I think it is important that 'Honor Diaries' not only sheds light on the massive scale of subjugation of women and girls around the world, but exposes it right here in the United States."
Alarming statistics from the UN and other sources report:

Every minute four girls are circumcised
125 million women and girls suffered female genital mutilation (FGM) in Africa and the Middle East since 1989
More than 60 million girls worldwide are child brides
Every day 13 women and girls are killed in the name of "honor"
The screening is being conducted by the UM-Dearborn Office of Student Engagement and is co-sponsored by their Women's Resource Center and Office of International Affairs.
Media interviews and RSVP:
Karean Peretz
Karean(at)honordiaries(dot)com
Mobile: 1-646-335-0280