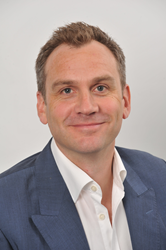 These are some great ways people can find happiness today and apply what they do to their lives.
(PRWEB UK) 20 March 2014
A leading Psychology lecturer and 'Luck Doctor' at Buckinghamshire New University has urged people to mark today's International Day of Happiness by acting on some top tips.
On the United Nations-backed day, Dr Matthew Smith has pointed to the ideas of author Sonja Lyubomirsky and said they could be the key to happiness.
Dr Smith says the insights will guarantee even the most downbeat of us will experience happiness.
He said: "A worldwide day to encourage a 'can do' happy attitude is a great way of celebrating the importance of happiness.
"This is despite the natural tendency we all seem to have of 'not prioritising' our own happiness in our everyday lives.
"These are some great ways people can find happiness today and apply what they do to their lives."
Express gratitude: Encourage yourself to stop and think of three things for which you are grateful. Gives an immediate boost to your well-being.
Practice acts of kindness: Go and do something nice for someone. It will make you both happier.
Nurture social relationships: Connect with a friend. Phone one you haven't spoken to in a while and wish them a happy day of happiness.
Increase 'Flow': Do something you love doing, where you lose all sense of time. Do it more often.
Get yourself a Laughter Buddy: This could be your best friend or a character who inspires happiness. Find out more at http://www.facebook.com/LaughterBuddies and see how you could get involved. Lesley Lyle has written a book called Laugh Your Way To Happiness and is sending out ten 'Laughter Buddies' into High Wycombe today.
Dr Smith lectures on the MSc in Applied Positive Psychology at Bucks New University. He said the art of 'Positive Psychology' was a fast growing sub-discipline within academic psychology.
Dr Smith's blog entitled 'How to be happy?' can be found at http://drmatthewsmith.blogspot.co.uk/.
Editor's notes
Buckinghamshire New University has enjoyed a long and successful history since it was founded in 1893. The University offers an extensive portfolio of courses spanning the creative and cultural industries, the management and information management sectors, and the public sector. It also offers services to industry including contract research, consultancy and the opportunity to employ graduates.
The University has a state-of-the-art building in High Wycombe known as the Gateway, which comprises a learning resource and technology centre, events hall, gym, sports science laboratory, dance, drama, music and video production studios, library and meeting rooms. It also offers a growing provision of student accommodation in High Wycombe; and a thriving base for nursing students and applied healthcare research in Uxbridge, West London.
Its alumni include television star Noel Fielding and London 2012 Paralympic and Olympic medallists Naomi Riches and Chloe Rogers, and it has bestowed honorary degrees on well-known figures including Fern Britton, Terry Wogan and England Rugby World Cup winner Lawrence Dallaglio.
bucks.ac.uk