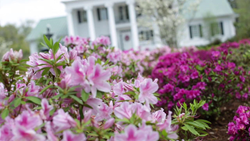 Wilmington North Carolina Spring Festivals
Wilmington, North Carolina (PRWEB) March 21, 2014
On the coast of North Carolina, retirees living in the Wilmington NC friendly neighborhoods are buzzing with excitement about an upcoming annual spring event. On April 9-13th, the North Carolina Azalea Festival is celebrating its 67th year in Wilmington. The Azalea Festival is jam packed with all sorts of outstanding activities, parties, street concerts and even a Celebrity Reception for those who want to be "Starry-Eyed" from celebrity sightings. Music, dancing, art galleries and so much more keep one of the best places to live in coastal North Carolina full of rich culture and entertainment. Check out the festival play-by-play here!
April 9, 2014
The festival kicks off with a royal affair at 3:00 p.m. Visitors and residents living in the Wilmington NC friendly neighborhoods can see the official crowning of the North Carolina Azalea Festival Queen. Celebrities and City Officials will be part of the Azalea Court and accompany her on the Henrietta III. The Queen and her Court will party on the water until the wee hours of the night with other ships sailing in the area.
April 10, 2014
Festival spirit is at its all time highest in one of the best places to live in coastal North Carolina as the Brigade Boys and Girls Club Community comes to visit. Here are some more events happening on the 10th.
"Stars" are visible during the day as celebrities meet and greet with locals at the Celebration Reception at 11:30 a.m. Later on the group, along with the Azalea Festival Queen, will appear at a local school to share their school pride.
The 2014 Cole Brothers Circus has returned to the Azalea Festivals in Wilmington North Carolina. Thursday and Friday shows start at 4:30 p.m. & 7:30 p.m.. Saturday shows begin at 1:30 p.m., 4:30 p.m. & 7:30 p.m. and Sunday wraps up the weekend with shows at 1:30 p.m. & 4:30 p.m. Boogie Nights begin at 8:00 p.m. with Justin Moore, Randy Houser, and Josh Thompson at the Miller Lite Main Stage for their 2014 Off The Beaten Path Tour.
April 11, 2014
Friday marks the start of the Festival Weekend! The Airlie Luncheon Garden Party is the perfect place for the North Carolina Azalea Festival sponsors to mingle with 2,500 others in their finest hats and bowties. For more details, check out how to be a sponsor. The Street Fair lasts the entire weekend. Try all 40 food vendors, visit four stages everyday and discover more than 200 arts and crafts tents.
The Juried Art Show and Sale opens from 1 p.m.- 4 p.m. and runs the whole weekend.
The first of two Widespread Panic Shows stirs up the crowds at 8 p.m. and fans will be "panicking" to get their hands on some tickets for both Friday and Saturday night.
April 12th and 13th, 2014
Saturday will be full energy thanks to the residents of the Wilmington NC friendly neighborhoods. Retirees visiting to look at homes in and around the area can drop in on the events this weekend.
The Street Fair Children's Area is open from 12 p.m.- 6 p.m. Complete with a science fair and variety of dance performers, adults and children will be amazed with the entertainment. The entertainment continues at the Street Fair Multicultural Stage. The top performers in and around the area will show off their talents from 1:00 - 5 p.m on Saturday and Sunday. At 8 p.m. Widespread Panic once agains leaves audiences crying for more as the final show ends on Saturday and one of the best festivals in Wilmington North Carolina finishes with the Street Fair fun.
Retirees are finding out that the festivals add excitement to their golden years and combined with a warm location, are the perfect mix for the next chapter of their lives. Local beach and golf communities like Landfall, Wrightsville Beach and Porters Neck Country Club are in high-demand because of their friendliness and close proximity to downtown. Retirees visiting the area during the festival can tour homes in these Wilmington NC neighborhoods while learning more about one of the best places to live in coastal North Carolina.
Bill Boyer of Intracoastal Realty is Real Estate Scorecard's trusted colleague in Wilmington. He can provide you free access to Boomtown to search for homes to see what money can buy.
Call Bill Boyer direct at 910-262-5414.
About Real Estate Scorecard:
Real Estate Scorecard writes unbiased real estate reviews providing in-depth information about popular gated communities in Florida, Georgia, North Carolina, South Carolina and Tennessee, all in an effort to help people discover where to retire in the Southeast.
Website: http://realestatescorecard.com