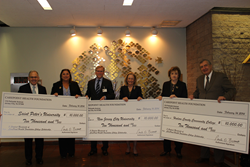 Hudson County, NJ (PRWEB) March 20, 2014
The CarePoint Health Foundation recently established a College Scholarship Program to assist financially challenged residents of Hudson County pursuing an education in the health care field. On Wednesday, March 19, 2014, three $10,000 scholarship checks were presented to Saint Peter's University, Hudson County Community College and New Jersey City University. Eugene J. Cornacchia, Ph.D. – President of Saint Peter's University, Joseph Sansone –Vice President of Development of Hudson County Community College Foundation and Sue Henderson, Ph.D. – President of New Jersey City University were present to accept the scholarships funds. Two students at each of the institutions will be the recipients of a $5,000 scholarship check.
About CarePoint Health Foundation:
CarePoint Health Foundation, Inc., is a not-for-profit 501(c)(3) organization serving Hudson County, New Jersey.
Mission:
The mission of CarePoint Health Foundation, Inc., is to strengthen access to care for uninsured and underinsured members of the Hudson County community. The Foundation generates charitable dollars and makes strategic grants to support programs and services that advance its mission of improving access to health, wellness, health education and future health professionals' education services for residents of Hudson County, New Jersey.
Vision:
The Foundation envisions a community where all residents can easily access the health and wellness services they need. The Foundation will be a leader in this effort by building strategic relationships with community agencies and providers to enhance and expand programs that effectively educate consumers and eliminate barriers to essential care.
For additional information, please call the CarePoint Health Foundation at 201-795-8000.
About CarePoint Health:
CarePoint Health is bringing quality, patient-focused healthcare to Hudson County. Combining the resources of three area hospitals — Bayonne Medical Center, Christ Hospital in Jersey City, and Hoboken University Medical Center — CarePoint Health is a new approach to delivering healthcare that puts the patient front and center. With a focus on preventive medicine, disease management and healthcare education, CarePoint Health provides patients with 360 degrees of coordinated care, delivered by the area's best and most dedicated doctors, nurses, hospitals and medical staff.