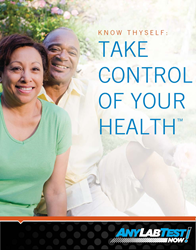 Alpharetta, GA (PRWEB) March 20, 2014
As part of its observance of Companies That Care Day on Mar. 20, ANY LAB TEST NOW® is giving back to its communities. ANY LAB TEST NOW is committed to supporting the communities in which it is located and their residents, through affordable lab testing and community service. ANY LAB TEST NOW locations have partnered with charities across the country including bone marrow donor organization Delete Blood Cancer. Most recently, the 15 Houston Metro area locations offered free B-12 shot vouchers to participants in Houston Area Women's Center's 26th annual Race Against Violence held on Feb. 22.
"We pride ourselves in supporting our local communities," said Clarissa Bradstock, COO and Acting CEO of ANY LAB TEST NOW. "We care about giving people choices that they may not have necessarily had before to proactively monitor their health. We want to encourage our communities to be aware of important days such as this."
Companies That Care Day is an annual national event that encourages employers and individuals to collaboratively address a significant societal issue that is undermining the well-being of the community. By participating in several community events throughout the country, ANY LAB TEST NOW plans on continuing to do their part in order to give back to the community by participating in events such as Go Red Day, in which lab testing services were provided while promoting and supporting heart health awareness throughout the nation.
ANY LAB TEST NOW® offers a variety of options for their patients including affordable prices, work-friendly hours and fast results.
To learn more about ANY LAB TEST NOW, visit http://www.anylabtestnow.com.
###
About ANY LAB TEST NOW®
Founded in 1992, ANY LAB TEST NOW is a franchise direct access lab testing company that provides thousands of standard lab tests to consumers and businesses in a professional, convenient and cost-effective, transparent manner. With over 150 facilities around the U.S., ANY LAB TEST NOW offers a variety of affordable and confidential lab tests to consumers and businesses including general health and wellness panels, pregnancy, HIV/STD, drug, paternity and many more tests. To learn more about ANY LAB TEST NOW, visit our website or like us on Facebook.