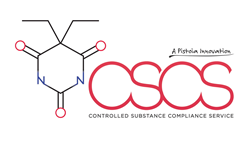 We have found real benefits in bringing together experts from across the world to review the sometimes ambiguous and often difficult-to-interpret legislation.
New York, NY (PRWEB) March 20, 2014
Using a shared-risk funding model has allowed technology suppliers, Pharma companies and other Life Sciences R&D organisations to work closely together to develop bespoke software tools while minimising financial risk. With multiple Pharma and other Life Sciences R&D organisations buying into a similar solution, there is the potential to reach a standardised interpretation of the controlled substance legislation across the industry.
The CSCS project is nearing completion, with the delivery of two independent, novel CSCS systems planned for early 2014.
The CSCS project team has successfully concluded a unique trial, demonstrating that these expert cheminformatics systems can predict to a high degree of accuracy if a chemical structure is classified as a controlled substance. Using Markush searching, combined with a dataset of known controlled substances, this trial tested against a comprehensive set of structures and legislation from three different countries.
Both ChemAxon/Patcore (a vendor consortium) and Scitegrity are making excellent progress with the development of their Controlled Substance Compliance Expert Systems, which include the compilation of legislative datasets from North America and key European countries. A team of experts drawn from major life science organisations, including AstraZeneca, Bayer, GlaxoSmithKline, Merck, Novartis and Roche compiled a dataset of over 400 chemical structures to challenge the vendors' systems. The dataset contained both controlled and non-controlled structures across a range of chemical classes and legislative schedules. The vendors were then asked to predict the controlled status of each chemical structure with reference to legislation from the USA, UK and Switzerland. Each of these countries has taken a different legislative approach to defining controlled substances, but both expert systems were able accurately to predict the classification of these test structures.
While the team is confident in the implementation of the cheminformatics technology by ChemAxon/Patcore and Scitegrity, we are limited by the interpretation of the legislation to generate the rules utilized by these expert systems. We have found real benefits in bringing together experts from across the world to review the sometimes ambiguous and often difficult-to-interpret legislation. As such, the CSCS project will be creating an industry-leading Controlled Substance Compliance Services Community of Interest. This Community will help continue the work of this group of experts while improving the understanding and interpretation of controlled substance legislation from around the world.
The Pistoia Alliance will be hosting a webinar on Friday, March 21st 2014 from 15:00-16:30 GMT to showcase these two CSCS systems. Registration can be achieved by clicking on the URL below:
https://www.eventbrite.co.uk/e/pistoia-alliance-demonstration-of-controlled-substance-compliance-services-tickets-9810813407
---
About the Pistoia Alliance
The Pistoia Alliance is a cross-company members' organisation committed to lowering the barriers to innovation in life sciences R&D by improving the interoperability of R&D business processes through precompetitive collaboration. It is a type 501 (c) (6) not-for-profit company formally incorporated in the State of Delaware and draws its membership from Pharma R&D and other Life Science R&D organisations, commercial information providers, technology companies and other publicly funded research organisations. The Pistoia Alliance brings together the key stakeholders to identify the root causes that lead to R&D inefficiencies and then develops best practices and technology implementations to overcome common obstacles.
If interested in learning more about the CSCS project and upcoming project developments, please contact Anne Dunlop at Anne.Dunlop(at)pistoiaalliance(dot)org or visit: http://www.pistoiaalliance.org/activities/controlled-substances.html
For more information about the Pistoia Alliance, please contact Vas Alli at comms(at)pistoiaalliance(dot)org