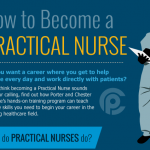 To Those Who May Be Interested in Becoming a Practical Nurse
Rocky Hill, CT (PRWEB) March 20, 2014
Porter and Chester Institute has crafted an informative new infographic targeted to those who may be interested in becoming a practical nurse. Designed to answer questions for prospective students and nurses, the infographic gives an overview of what practical nurses in Connecticut can expect in terms of training, working conditions, salaries and more.
Noting that jobs for licensed practical nurses are expected to see a growth rate of 25 percent from 2012 to 2020, according to the U.S. Bureau of Labor Statistics, the infographic sets up a clear path on how to enter the growing field. It also explains just what's causing such a phenomenal growth rate for practical nurses.
Among the information provided are statistics on salary, the types of facilities that employ practical nurses and what a working professional might encounter on the job. The infographic also describes the direct patient interaction practical nurses experience as they take vital signs, listen to patient histories, perform routine tests and help with personal care. According to the infographic, there are many benefits to becoming a practical nurse, but the top incentive is being able to help others.
In addition to general information about the practical nursing profession, the Infographic describes the program offered at Porter and Chester Institute. Known for the hands-on training it offers in all its career training programs, Porter and Chester Institute's practical nursing program is no exception. Students use real medical equipment, like blood pressure cuffs and stethoscopes and interact with actual patients as part of their Porter and Chester Institute practical nursing program training.
Porter and Chester Institute has 9 locations in Connecticut and Massachusetts and offers 10 different career training programs including Connecticut's Practical Nursing program which can be learned about by checking out the Infographic.
About Porter and Chester Institute:
Porter and Chester Institute, Inc. is a Connecticut-based postsecondary institution with over 60 years of experience in providing technical, business, and health related occupational preparation. Founded in 1946, the Institute trains over 3,000 students annually through nine campuses in Connecticut and Massachusetts. Porter and Chester Institute is accredited by the Accrediting Commission of Career Schools and Colleges (ACCSC), is approved by the Connecticut Office of Higher Education, and licensed by the Commonwealth of Massachusetts Division of Professional Licensure, Office of Private Occupational School Education. Porter and Chester Institute uses hands-on education to prepare students for successful technical careers.