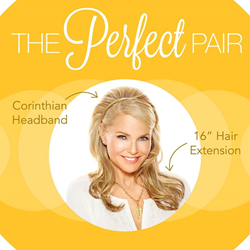 Now through March 31, save 50% on any braided headband style when you purchase a 16" Hair Extension. Use promo code PERFECTPAIR during checkout.
(PRWEB) March 20, 2014
The incredibly popular Christie Brinkley 16" Hair Extension by Hair2wear is back in stock and are ready to give women gorgeous, supermodel hair. The single-piece hair extension that Brinkley helped design is "fun and easy to wear," according to the iconic model, actress, and fashion personality. It clips in easily to add volume that blends naturally with your own hair. Demand for the extensions has been so great that Hair2wear has struggled to keep them in stock. But a recent shipment has replenished inventory levels to meet soaring interest for the clip-in hair extensions, which customers can find at Hair2wear.com along with ponytails, bangs, and other hair accessories.
This is great news for fans of the extensions, which Brinkley says "fit well with a woman's life and are easy so you don't need to be an expert hairdresser to make them look good." Hair2wear and Brinkley have even collaborated on a simple "How To" infographic so women can see just how easy it is to create supermodel hair using these clip-in hair extensions.
In addition to the 16" Hair Extension, the complete Hair2wear hair extensions collection includes two additional products that represent some of Brinkley's signature styles: the Full-Sweeping Side Fringe and The Pony™. The Full-Sweeping Side Fringe hair extension makes it easy to add a trendy side-swept bang in seconds and eliminates the need to decide whether to grow or cut bangs. The Pony™ effortlessly gives your ponytail extra length and volume, attaching with a wrap-around piece that looks like a natural knot. Hair2wear hair extensions are available in 11 colors, ranging from Almost Black to Platinum Blonde and Brinkley's own Medium Golden Blonde.
Now through March 31, save 50% on any braided headband style when you purchase a 16" Hair Extension. Use promo code PERFECTPAIR during checkout. This offer may be combined with Free Shipping offer.
About Hair2wear
From gorgeous wigs to clip-in hairpieces, Hair2wear's products use the finest synthetic hair materials and construction, making them some of the best products available on the global market today. Each product is specially designed to blend popular hair styles with cutting-edge technology, providing women everywhere with the power to easily and instantly transform their look. Inspired and worn by legendary supermodel Christie Brinkley herself, Hair2wear's Christie Brinkley Collection includes a full line of superior quality hair fashions.
For further details about the Christie Brinkley Collection of hair accessories, hair extensions, wigs, and more, please visit http://www.Hair2wear.com or call 1.877.312.2525.
The Christie Brinkley Collection is available exclusively at http://www.Hair2wear.com.