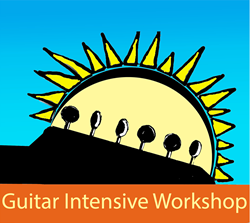 "….in the field of music education, the Guitar Intensive Workshop stands alone in the singularity of its faculty and its goal."
New York, New York (PRWEB) March 22, 2014
The world abounds with stories of Dream Teams, particularly in the world of music. But in the field of music education, the Guitar Intensive Workshop stands alone in the singularity of its faculty and its goal.
From shrieking electric Speed Metal to sophisticated solo Jazz guitar, each of the clinicians of the Guitar intensive Workshop are bywords in their fields. Bass player Stuart Hamm played bass with Joe Satriani for many years, and is an acknowledged master. Alex Skolnick may have started out as an acclaimed speed metal player, but his thirst for other forms led him to seriously study jazz, and gain recognition in that field. Mimi Fox is widely considered to be one of the very finest solo jazz guitarists, while Jane Getter can shine in almost any idiom, from rock to jazz to blues. Rounding it all out, Bruce Arnold is a mad scientist in the use of pitch class sets and 12-tone theory in compositions and improvisation, and is one of the few guitarists using the SuperCollider program to create new sounds. Aside from being a great player, he is also a formidable educator and has a global following of students. And it is The Bruce Arnold Foundation that is driving this entire endeavor, as a service to those students who have never had the chance to participate in this kind of learning environment. Muse Eek Publishing Company will be generously providing workbooks to help the students learn.
The intention of the Guitar Intensive Workshop is to bring the guitar camp experience to students who might not normally be able to attend a distant event, by traveling to various locations throughout the USA (and in the future, international ones) thus making them more accessible to a broader student demographic.
The first in this planned Road Trip will occur from June 30 through July 4th at the Full Moon Resort, in the Catskills, near Woodstock, NY. It is a well-known venue for hosting its Music Masters Camps. Set in the middle of a nature preserve its landscape of mountains, fresh springs and meadows are a pristine setting for the enjoyment of nature while promoting the kind of concentration for serious study. The Resort is also well known for its excellent cuisine, and all meals are included in the package. Music Master Camps aim to connect students directly with teachers, to promote an informal yet invigorating educational experience. Each day will be packed with workshops, master classes and jam sessions, and each evening culminates in concerts with both faculty and students.
Another thing that makes this camp truly unique: After the bags are packed and the camp itself is a memory, students who wish to continue in their studies have free access not only to a vast archive of online learning materials provided by the Muse-eek Publishing Company but email access to Bruce Arnold as well, to guide them in further achievements.
"I never could have attended anything like this, when I was learning the guitar," says Arnold. "Everyone in the Guitar Intensive Workshop is not just a world class player, but is also committed to teaching, and to bringing this high level educational environment to the broadest possible audience. I think this is an amazing opportunity for the student --and the teachers, too."