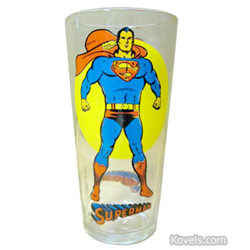 Cleveland, OH (PRWEB) March 20, 2014
Kovels.com knows that there is a collector for everything—nothing seems to be too insignificant or strange. Collectors scour flea markets, antiques shops, house sales and Internet sites for a wide range of items. Here are five unexpected and quirky collecting categories.
1. Super hero glasses
Look in grandma's cupboard for decorated glasses that originally contained jam or dairy products. In the 1930s, companies began to promote these products by selling them in decorated tumblers that were later used as children's drinking glasses. Radio's Green Hornet and Kato were two of the first super hero characters featured. Cartoon characters like Popeye and the Disney gang also appeared. A new glass was featured each week and customers could buy missed glasses later. Soft drink companies sold decorated glasses at gas stations and in grocery stores in the 1940s. In 1953, Welch's Jelly featured Howdy Doody and in 1964, Polaner's Pure Concord Grape Jam had Superman tumblers. The golden age of super hero glasses was the 1970s. Pepsi featured Aquaman, Batman, Batgirl, Green Lantern, Flash, Superman, Supergirl and Wonder Woman. Seven Eleven had Captain America, Fantastic Four, Hulk, Spiderman, Thor and Masters of the Universe. The glass tumblers were replaced by plastic containers by the end of the 1980s, but super heroes are still popular. Vintage decorated tumblers are easily found and affordable, selling for about $5 to $50. "Tomart's Price Guide to Character & Promotional Glasses" by Carol Huffman and Tom Hoder (Tomart Publishing, Dayton, 2000) gives more information needed by collectors.
2. Toothpick holders
Looking for a collectible that is also a festive, retro addition for a party table? Small, figural containers that hold wooden toothpicks were an essential tableware accessory. Collectors call them "toothpicks" for short. There are toothpicks made of glass—cut, pressed, overlay or art, porcelain, pottery, silver plate, cloisonné and silver. No matter how large or small the budget, buyers put together colorful and useful collections. The National Toothpick Holder Collectors' Society (NTHCS.org) supports collectors with a newsletter, Toothpick Bulletin, a forum and collector events.
3. Crown bottle caps
Look for this collectible in a waste basket at a bar. The first crown cork-lined bottle cap was patented in 1892. Most wanted today are cork-lined caps and caps from small breweries or brands that were not made in large quantities. Common bottle caps sell for 25 cents, while rare caps sell for hundreds of dollars. Collectors belong to the Crowncap Collectors Society International (BottleCapClub.org). American Breweriana Association has a beer brand Crown Cap Exchange where collectors donate caps and get some.
4. Casino gambling chips
Chips are worth cash at the casino, but some are worth more as collectibles. Each casino has its own unique chips. Collectors of gambling tokens specialize in chips used by particular casinos, or look for chips of a particular denomination. The more legendary the casino, the more valuable the chip, especially if the casino has closed. In the 1950s and '60s, most chips were made from "clay" that was really a ceramic composite. The printed graphic on the center of a chip is called an "inlay." It includes the chip's value, the casino's name and sometimes an image or logo that can also increase a chip's value. The Casino Chips & Gaming Tokens Collectors Club (CCGTCC.co) holds an annual convention every year in Las Vegas.
5. Bedpans
The unappealing function of a bedpan didn't keep 18th and 19th century craftsmen from making unusual decorated sanitary ware that is collected today. Look for bedpans in different shapes that were designed for men or women, chamber pots, urinals, travel potties, child's potties, covered containers and bedpan-themed advertisements and greeting cards. Old hospital graniteware (enameled metal) is popular, inexpensive and easy to find. Collectors like white with blue or black trim. There is a Chamber Pot Museum in Germany that has 2,000 examples from early Roman glass to Meissen porcelain pots with lids.
Tell us about your quirky collection.
Terry Kovel is America's foremost authority on antiques and collectibles. She is a well-known columnist and author of more than 100 books on antiques and collecting. With her daughter, Kim Kovel, she co-authors the best-selling annual "Kovels Antiques and Collectibles Price Guide." Both Terry and Kim are collectors. They will discuss antiques and collectibles topics with accredited media. Photographs are available. Contact pr(at)kovels.com.
About Kovels.com
Kovels.com, created by Terry Kovel and Kim Kovel, provides collectors and researchers with up-to-date and accurate information on antiques and collectibles. Kovels' Antiques was founded in 1953 by Terry Kovel and her late husband, Ralph. Since then, Kovels' Antiques has published some of America's most popular books and articles about antiques, including the best-selling "Kovels' Antiques and Collectibles Price Guide," now in its 46th edition. The Kovels' website, online since 1998, offers 900,000 free prices and includes a free weekly email, "Kovels Komments." It give readers a bird's-eye view of the market through the latest news, auction reports, a Marks Dictionary, readers' questions with Kovels' answers and much more.
Contact Information:
Liz Lillis
216.752.2252