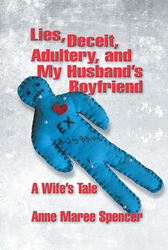 (PRWEB) March 21, 2014
"Lies, Deceit, Adultery, and My Husband's Boyfriend: A Wife's Tale" is the true story of Anne Maree Spencer, a woman whose husband finally confessed to her that he "changed his sexual preference" after 30 years of marriage.
This honest autobiography tells it like it is, with no apologies for the descriptive language. You will be inspired by the author's rise in self-esteem and self-worth as she divorces her cheating husband, who left her for "Boo Boo," a man 30-plus years his junior. Her once loving, heterosexual partner and the father of her two children had been cheating and lying about it for over two years.
The author's pursuit of getting her life back on track with the support of her children and friends makes for a touching book, showing the power and determination of one woman's fight against feeling unloved and worthless, to that of re-inventing herself. She opens her soul to give other women the courage and strength to grow and become strong, empowered women.
LIES, DECEIT, ADULTERY, AND MY HUSBAND'S BOYFRIEND: A WIFE'S TALE (ISBN: 978-1-62857-566-8) is now available for $12.50 and can be ordered through the publisher's website:
http://sbprabooks.com/AnneMareeSpencer or at www(dot)amazon(dot)com or www(dot)barnesandnoble(dot)com.
WHOLESALERS: This book is distributed by Ingram Books and other wholesale distributors. Contact your representative with the ISBN for purchase. Wholesale purchase for retailers, universities, libraries, and other organizations is also available through the publisher; please email bookorder(at)aeg-online-store(dot)com.
About the Author: Anne Maree Spencer grew up in Melbourne, Australia. "I have been through hell and back in my discovery of my unfaithful husband. I have dragged myself up from the depths of depression. My friends encouraged me to write about it as not only therapy, but also as a way to help other women who find themselves in a similar situation."
Strategic Book Publishing and Rights Co, LLC
http://www.AuthorMarketingIdeas.com
http://www.PublishOnDemandGlobal.com
http://www.StrategicBookClub.com