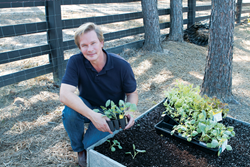 'Gardens have always been an intergral part of the Stratford landscape,' said Paul Reber, Executive Director, Stratford Hall. 'So we are pleased to be able to offer this very informative program to the public.'
Stratford, Virginia (PRWEB) March 25, 2014
Stratford Hall will be presenting a special Garden Day and Cabin Walk event in conjunction with Historic Garden Week in Virginia. Join us on April 27, 2014, for a day of tours and presentations. Nationally known gardening expert P. Allen Smith will be giving a presentation followed by a book signing. Will Rieley, the Garden Club of Virginia's landscape architect, will be giving a presentation on historic garden restoration. "Gardens have always been an integral part of the Stratford landscape," said Paul Reber, Executive Director, Stratford Hall. "So we are pleased to be able to offer this very informative program to the public."
As part of the day's activities, several Directors' cabins will be open for touring and members of Stratford's board of directors from around the country will serve as hostesses. This year marks the 40th anniversary of the first Cabin Walk tour held in conjunction with Historic Garden Week. Also included on the tour will be the Great House (self-guided), Cheek and Astor guest houses, and the gristmill.
The Garden Club of Virginia began its long-standing relationship with Stratford Hall in 1930 when it undertook the restoration of the East Garden, one of its first restoration projects. Since that time, the Garden Club of Virginia has continued to advise and assist with other garden needs as they become evident.
Investigation and restoration of the landscape around the Great House is a part of the ongoing comprehensive campaign, "Securing a Place for the Past." Stratford has also been working with the University of Georgia on a cultural landscape research project for the entire site.
Tickets for the Garden Day and Cabin Walk include all presentations, tours, and a box lunch. Tickets cost $85 per person, and must be bought in advance as seating for the presentations is limited. Advance tickets can be bought through the website at http://www.StratfordHall.org, or you may call 804-493-1370 for more information. For more information on Historic Garden Week in Virginia, visit http://www.vagardenweek.org.