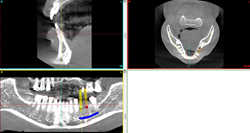 Campbell, CA (PRWEB) March 20, 2014
Dr. Jeremy Ueno, of Ueno Periodontics, is excited to announce that he is now offering a new dental implant procedure to his patients. This procedure places implants digitally to ensure complete accuracy.
To do the procedure, Dr. Ueno will begin by taking a CT scan (3D xray) with the Sirona Galileos CT scanner, which Ueno Periodontics has in-house. The scan will form a file named a DCM file. Then, an iTero digital impression is taken of the teeth inside the patient's mouth. This impression will form what is called an STL file.
The DCM file and STL file will then be merged to create an overlay of the teeth and gums, from the STL file, over the bone and anatomic structures, from the DCM file. This will be done using Simplant software. At this point, implant placement is done on the computer virtually.
Once Dr. Ueno is happy with the virtual implant placement, he will send the case to a lab for the fabrication of a computer-guided implant placement surgical guide. This ensures complete accuracy of the implant placement. Dr. Ueno can also have temporary teeth, made with CAD/CAM technology, ready at the time of surgery. This way, he can give his patients "teeth in a day" in some cases.
To learn more about the new dental implant procedure or about Dr. Jeremy Ueno and Ueno Periodontics, call 408-371-7616 or visit http://www.uenoperiodontics.com/.
<br>About the company:<br>At Ueno Periodontics, Dr. Jeremy Ueno and the exceptional staff treat all of their patients' periodontal needs. They believe in conservative and predictable procedures to fulfill treatment needs and patient expectations. Their state-of-the-art office offers the most up-to-date equipment set in a relaxing and patient-friendly environment. Dr. Ueno offers all aspects of periodontal treatment ranging from esthetic laser and gum surgery to replacing missing teeth with dental implants. He is also very proud that he is able to offer laser periodontal surgery to his patients, which has many benefits over traditional periodontal or gum surgeries. For more information, please visit the Ueno Periodontics website at http://www.uenoperiodontics.com.