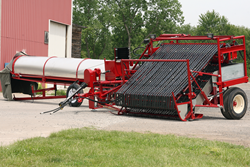 (PRWEB) April 23, 2014
A.N. Martin, LLC. has resumed production of the popular MB Harvester pull-behind greens harvesting machines. A.N. Martin is also manufacturing replacement parts for both the MB Harvester and Porterway units.
The MB Harvester and Porterway harvesters are pulled behind a farm tractor and operate off the tractor's PTO (Power Take-Off). They are lighter than the larger ride-on units, allowing farmers to harvest even when a field is wet. This reduces chances of the crop being damaged by moisture.
"Many of our farm customers own Porterway and MB Harvester units and can't find parts," says Jason Martin, president of A.N. Martin. "It made sense for us to manufacture the units as well as the replacement parts because we already have the equipment and personnel in place," he adds.
A.N. Martin, a custom grain handling equipment manufacturer located in Clyde, NY, has served the farming industry since 1979.
For more information on the MB Harvester greens harvesting machines or replacement parts for the MB Harvester or Porterway units, contact A.N. Martin at 315-521-1518 or on the web at http://www.mbharvester.com.