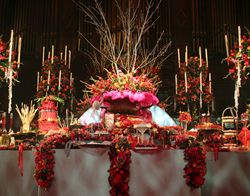 To be acknowledged by your peers and competitors who get and understand what you do is the highest, most respected honour.
Las Vegas, NV (PRWEB) March 20, 2014
As the city gears up for 2014's CaterSource conference starting this Sunday, March 23, South African Catering maven and previous CaterSource Best International Caterer award-winner Vicky Crease prepares herself for her arrival and for this year's latest trends. "I always enjoy the people, energy, and new ideas of CaterSource," said Crease. "These are people that I work with and respect so much."
A blend of eclectic and modern stylings and an extremely personal touch attribute to Crease's international edge and appeal. From weddings and parties to life's somber moments, Crease and her team have executed a variety of works of art through their food and event planning for many notables worldwide.
Crease's love for catering and entertaining started from a young age by hosting tea parties with her friends. This love grew into a love of hosting and baking for guests when they visited and eventually Crease's flavorful cakes expanded by word of mouth. A psychologist by profession, Vicky also obtained a degree in marketing from the University of South Africa in Johannesberg. While she loved what she had studied, food and events were her first loves and led her back to the catering industry.
Vicky Crease Catering has won many awards over the years that they have been in business including five of the International Caterers Association's CATIE awards for Best Themed Menu, Best Use of Food as Décor, Best New Food Concept, Best Barbecue or Picnic. Additionally, the company has gained awards and accolades earning CaterSource's ACE award for Best Independent Caterer. When asked what it means to her, Crease replied with: "To be acknowledged by your peers and competitors who get and understand what you do is the highest most respected honour."
The conference, which takes place March 23 through 26, showcases the finest in catering and event talent as well as the latest trends and tricks of the catering and event industry.
For more information on Vicky Crease attending CaterSource or on Vicky Crease Catering, e-mail abakris(at)PlethoraMedia(dot)biz.
###
Plethora Media Group, is a full-service creative, media marketing agency specializing in custom branding and full-service media management integration. With clients world-wide, and a commitment to expanding your branding, Plethora brings Madison Ave. to Main St.
Take your marketing to the power of Pi, the power of Plethora.