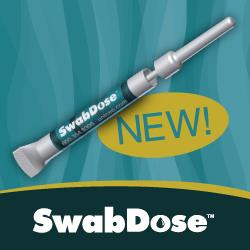 "With this addition, we are able to offer our customers world-class consumer product capability producing hundreds of millions in annual SwabDose™ units."
Sandpoint, ID (PRWEB) March 21, 2014
Unicep, a leader in specialized liquid and gel contract manufacturing and packaging, announced today that it has acquired a high speed single use applicator line to support the ongoing need for point-of-use delivery systems. This latest addition to Unicep's state of the art manufacturing facility will complement their existing portfolio of unit dose blow-fill-seal dispensers.
"Today's announcement is another demonstration of Unicep's commitment to providing our customers with new and innovative options to satisfy their unit dose packaging needs," said Paul Knight, VP of Engineering at Unicep. "With this addition, we are able to offer our customers world-class consumer product capability producing hundreds of millions in annual SwabDose™ units."
There is a broad range of applications and products that can benefit from SwabDose™ technology. Within the SwabDose™ unit casing, an applicator, such as a swab, is saturated with liquid, gel, or cream products for one time use topical application. Consumers can apply products in a single, sanitary premeasured step. The point-of-use applicator is ideal for products such as skin and nail care, whitening gels, gum soothing products, fluoride treatments, animal health products, and OTC topical treatments.
About Unicep
Formed in 1992, Unicep is recognized in the industry for new product development, custom blending & manufacturing, contract filling, and unique blow-fill-seal single use packaging for cosmetic & personal care, oral health care, OTC, dietary supplement, animal health, and medical device & diagnostic markets.
Unicep provides customers with a full range of specialized liquid and gel product solutions to meet their manufacturing and packaging requirements. With our continued investment and expertise in blow-fill-seal technology, we deliver solutions that ensure a successful product launch in a highly competitive marketplace.
Corporate Headquarters & Manufacturing: 1702 Industrial Drive, Sandpoint, ID 83864
Shipping & Receiving, Sales & Marketing: 23504 E. Knox, Liberty Lake, WA 99019
Certifications: FDA registered, ISO9001, ISO13485 and cGMP certified