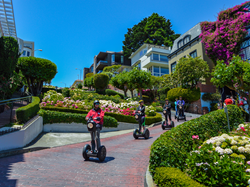 "We listened to what our customers wanted and launched these new and exciting Segway Tours." Brian Huber - President.
San Francisco, CA (PRWEB) March 21, 2014
San Francisco Private VIP Segway Tours provide riders, novice and experienced, with a fun, unique and memorable experience. With the launch of its new tour office at 417 Beach Street in San Francisco - the new Segway Tour Company will provide private segway tours to groups of 2 to 10 guests. Segways are easy to use and fun to ride - and what better way to explore the "City by the Bay" than by Segway.
Riders will explore Fisherman's Wharf, North Beach and Chinatown, all while taking in stunning views of San Francisco Bay. Some highlights include scooting down world-famous Lombard Street, gliding through historic Fisherman's Wharf and taking in sweeping views of the Golden Gate Bridge and Alcatraz from Historic Maritime Pier.
President Brian Huber of the San Francisco Electric Tour Company says, "After the success of our public tours in Fisherman's Wharf and Golden Gate Park, we listened to what guests wanted and started a private Segway tour option specifically for parties of 2 to 10 guests."
"Private Segway Tours offer flexibility in all aspects of the tour. Riders no longer have to wait for established departure times, now guests depart when they are ready and explore the city with their own personal guide. Private tours allow for more frequent stops along the route and encompass three fun-filled hours."
Three exciting tour routes are offered:
The Waterfront & Hills Segway Tour - explores Fisherman's Wharf, Pier 39, North Beach Little Italy, Ghirardelli Square, and famous Telegraph Hill and Lombard Street, known as the Crookedest Street in the World.
Chinatown and San Francisco Waterfront by Night Segway Tour - takes guests through alleyways in Chinatown, explores North Beach Little Italy, the Financial District, San Francisco Bay and amazing views of the Bay Lights Installation on the iconic Bay Bridge.
Golden Gate Park Segway Tour - explores the hidden sites of the 1000+ acre park and is a refreshing departure from the city's hustle and bustle.This is an extension of the public segway tours already offered in Golden Gate Park.
A Private Segway Tour is a delightful way to explore the highlights of the city by the Bay. They are perfect for special events, corporate team building, meetings, family reunions, social groups or just plain fun with your friends or family.
Private Tour rates include your own personal guide or guides, one-on-one training, , longer routes and guide gratuity. All guests must be age 12yrs and older and weigh 100-250 lbs or 45-113 kg. Rates are tiered pricing dependent on group size. Prices range from $105.00 per rider for a group of 10 guests to $150.00 per rider for a group of 2 guests.
More details available at: http://www.privatesegwaytours.com.
Images available at: http://private-segway-tours-san-francisco.com/media-images/
Private Tour Videos: http://youtu.be/swWqoO4AvpU