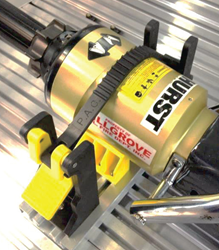 Lancaster, NY (PRWEB) March 20, 2014
Performance Advantage Company is excited to announce that they are now offering a new product called FASTLOK. This product, new for 2014, is used for mounting tools and securing large and heavy items.
FASTLOK is ready to use straight out of the box. With this product, customers can now secure equipment easily and quickly. The track base provides fast setup and adjustment to mount a wide variety of equipment, including fire extinguishers, air cylinders, hydraulic pumps, rescue tools, chainsaws, oxygen cylinders and many more.
FASTLOK is easily adjustable and UV resistant. There is also no metal to metal contact. FASTLOK features an adjustable strap length, adjustable supports and a fast-locking lever. The strap is available in several color options, including black, yellow and orange. FASTLOK is also available in a longer version with more grip range. The FASTLOK Adjustment Kit has been NFPA 1901 Certified.
Performance Advantage Company designs products to mount life-saving tools safely and securely. Their versatile and flexible mounting options provide the most efficient and accessible solutions for tools and equipment. All products can be customized for individual needs and requirements.
To purchase the new FASTLOK product, contact Performance Advantage Company today. For more information, visit their website at http://www.pactoolmounts.com/.
About the company:
Performance Advantage Company, established in 1992, is a privately-owned company that manufactures and markets high-quality tool-mounting brackets. PAC's primary market is the fire industry, providing specialty tool-mounting solutions for fire apparatus. Other markets include the military, law enforcement, EMS, utilities and the Homeland Security Department. PAC provides adjustable mounts, universal mounts, friction locking brackets, custom tool boards and more. A full list of their products and specifications can be found on their website. Performance Advantage Company is headquartered in Lancaster, N.Y., a suburb of Buffalo, and sells its products directly or through a worldwide network of dealers. Please visit PAC on the web for more information at http://www.pactoolmounts.com.