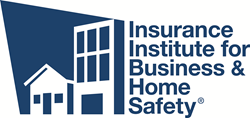 Tampa, FL (PRWEB) March 20, 2014
WHAT: Experts form the Insurance Institute for Building & Home Safety (IBHS) are available to answer media inquiries about what steps homeowners and business owners can take to safeguard their property against severe weather.
WHY: The arrival of spring signals new beginnings and warmer weather, but it also means that nearly every region of the U.S. will likely experience some sort of extreme weather, such as high winds, tornadoes, or hailstorms. IBHS provides free resources to help home and business owners prepare for and recover from severe weather events.
As a building science organization, IBHS also conducts original research at its state-of-the-art research center in S.C. This year, scientists are focusing on the impact of hail on homes, as well as the wind performance of roofing materials such as asphalt shingles and solar panel arrays.
WHO: The IBHS experts below are available to address topics such as tornado preparedness, property mitigation, and the effect of high winds, tornadoes, and hail on homes and commercial properties, as well as the Institute's research programs. Additionally, experts can outline specific measures home and business owners can take to safeguard their property against severe weather.

Dr. Timothy Reinhold, IBHS senior vice president of research and chief engineer, is an internationally-recognized wind engineer with more than 30 years of experience. Dr. Reinhold is a well-respected professional engineer known for developing techniques to build and retrofit new and existing structures for greater resiliency. He conducts research on wind effects and structural resistance including post-event assessments, model and full-scale laboratory studies, and in situ field structural testing.
Dr. Tanya Brown, IBHS research engineer, provides engineering leadership on research projects related to the development, operation, and enhancement of the IBHS Research Center. Her research focus is on hailstone formation, hail impact testing, wind-flow characterization and testing, instrumentation, and field and damage assessment studies. Dr. Brown is a sought-after media source and speaker, having recently served as a panelist at the 3rd Annual National Tornado Summit in Oklahoma City, Okla.
Dr. Ian Giammanco, IBHS research scientist, has nearly a decade of meteorological field research experience. At IBHS, he is responsible for instrumentation design and data collection, wind-flow characterization and multi-hazard testing including hail and wildfire, as well as field operations. Dr. Giammanco routinely shares information about his research at annual conferences, most recently at the 94th Annual Meeting of the American Meteorological Society in Atlanta, Ga.
Julie Rochman, IBHS president and CEO, brings more than 20 years of public affairs and advocacy experience related to research and safety organizations and issue-based coalitions. Since joining IBHS in 2007, Ms. Rochman's leadership has raised IBHS' profile as a trusted media source about effective actions to create stronger, safer homes and businesses in the face of natural and man-made disasters.
HOW: To arrange an interview with an IBHS building science expert, contact Kenya Woodard, public affairs manager, at (813) 675-1053 (o) (813) 442-2845 (c), or kwoodard(at)ibhs(dot)org.
About The Insurance Institute for Business & Home Safety (IBHS)
IBHS is an independent, nonprofit, scientific research and communications organization supported by the property insurance industry. The organization works to reduce the social and economic effects of natural disasters and other risks on residential and commercial property by conducting building science research and advocating improved construction, maintenance and preparedness practices.