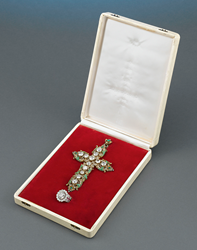 'Not only are these two pieces historically significant, they are remarkable due to the fact that Papal jewelry rarely comes on the market,' explained Bill Rau.
New Orleans, LA (PRWEB) March 21, 2014
A Holy diamond cross and ring, together totaling more than 75 carats and belonging to Pope Paul VI, takes the term "bling" to new heights of Papal decoration and accessorizing. As Easter approaches, M.S. Rau Antiques is offering two stunning pieces of Papal jewelry which were both presented to Pope Paul VI early in his reign (1963-1978). An impeccably and intricately carved Edwardian style 18k yellow gold cross, called a pectoral cross since it is large enough to be worn on the chest with a cord or heavy chain, that measures 7-inches in length and is decorated with more than 60 carats of diamonds and Columbian emeralds is being offered at $1.25M. The ring that accompanies the cross is set in platinum and features a 13-carat white diamond in the center and is for sale at $650,000. Both the ring and the cross are engraved with the Christian Chi Rho symbol which indicates that the pieces were most probably made by Vatican jewelers in the early 1900's with gemstones from the Vatican's own collection.
"The cross bears a stamp of 'Cassio' which refers to Cassio Studios, one of the artisan ateliers at the service of the Vatican," explained Bill Rau, third-generation owner of the 102-year-old fine art and antiques business M.S. Rau Antiques. "The cross has twelve main diamonds totaling over 60 carats. Smaller old mine cut white diamonds, ranging in weight from 8.66 carats to 3 carats, are placed all over the front of the cross and are nestled between scrolls and leaves that are filled with Columbian emeralds. The diamonds are VVS and VC clarity. The Columbian emeralds that are inlaid into the gold are a perfect complement to this ornate design," added Rau.
The ring's design is much more modern than that of the cross. A 13-carat solitaire diamond is surrounded by a halo of 14 smaller round diamonds which total 3.5 carats. The ring is set in platinum and is flanked by two squares in either side decorated with diamonds and rubies set in the shape of a cross.
According to documents provided by the Vatican, Pope Paul VI made a historic visit to the UN to address the General Assembly in 1965 and at that time, requested that these two pieces of jewelry be auctioned with the proceeds going to human relief funds. Being born into a wealthy upper class family, Pope Paul VI concerned his papacy with winning back the working class and preached the social message of the Gospel, which he accomplished with this generous gesture on behalf of the Catholic Church.
The auction took two years to prepare and was handled by Parke-Bernet, the nation's largest fine art auction house until it was acquired by Sotheby's in the late 1960's. An 8-page brochure about these two extraordinary pieces was printed for this unusual sale which took place in November, 1967. Chicago jeweler Harry Levinson bought both pieces of jewelry for $64,000 and the entire amount was divided between four UN agencies. After that, the two pieces of jewelry were bought and sold several times. At one point they were even owned by renowned daredevil Evel Knievel. Not only are these two pieces historically significant, they are remarkable due to the fact that Papal jewelry rarely comes on the market. For more details, visit http://www.rauantiques.com.