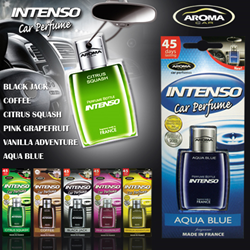 (PRWEB) March 22, 2014
The fresh aroma and exotic elegance of R.R. Lalena's new line of air fresheners quickly awaken the senses. These exclusive hanging air fresheners, cellulose pendants, atomizers and gel air fresheners are composed of genuine French extracts. Not only do they freshen and decorate the car interior, but the use of gel aromatics substance guarantees the unusual endurance of the fragrance.
INTENSO PERFUME – Scents available: Aqua Blue, Black Jack, Citrus Squash, Coffee, Vanilla Adventure, Pink Grapefruit. Volume: 10 ml.
INTENSO AIR VENT – A stylish air freshener for the air vent grill, this has a very intensive and long lasting fragrance. The strength of the scent can be adjusted with a special regulation switch, according to individual needs. The combination of a high class French perfume and an elegant shape will satisfy even the most demanding drivers. Scents available: Aqua Blue, Black Jack, Citrus Squash, Vanilla Adventure and Pink Grapefruit. Volume: 7 ml.
INTENSO SPRAY – Transformed from the modern car air freshener into a spray, this air freshener kills bad smells and gives the immediate effect of freshness. Concentrated aromatic substance provides the unique scent strength found in the Intenso spray line. Scents available: Aqua Blue, Black Jack, Citrus Squash, Coffee, Vanilla Adventure, Pink Grapefruit. Volume: 50 ml.
AROMA CAR WOOD – Selected aromas created from natural oils miraculously refresh the car interior and remove unpleasant odors. The modern ornament, when placed on the rear view mirror, will subtly underline the unique style of every car. Scents available: Vanilla, Lemon, Ocean, New Car, Anti-Tobacco, Black Denim, Green Tea. Volume: 6 ml.
AROMA CAR MAGIC GEL – The gel air freshener designed for the air vent comes in the shape of a teardrop and provides 45 days of fragrance sensation. Its compact size fits all kinds of air vents and makes it a subtle decoration of the car interior. The product is available in three energizing, masculine fragrances.
AROMA CAR ELEGANCE – Aroma Car Elegance was designed for drivers who pay attention not only to functionality but to esthetics as well. It's fashionable and elegant design harmonizes with the sophisticated fragrance choice, which provides a feeling of luxury.
AROMA CAR DISC – The original air freshener ideally fits into the air vent grill. Concentrated aromatic composition in the form of a gel provides 60-days of lasting fragrance. Intensive scent and color create an unrepeatable addition to any car.
INTENSO AERO – This comfortable-in-use air freshener spray rapidly frees the fabulous scent exactly when it is needed. The small, discrete size of the spray allows it to fit in even the smallest car compartment.
About R.R. Lalena Corporation
For more than 25 years, R.R. Lalena's expertise has been in the export and import distribution of air fresheners, car accessories, chemicals and unique impulse items serving the car wash industry, c-stores, gas stations, novelty stores and other distributors.
We at R.R. Lalena know what the consumers in the car wash industry desire: our dedication, passion, experience, knowledge and never ending effort to provide the highest quality products at the lowest price to our customers, which is what helps us stand out from the crowd.
From unique scented air fresheners, car detailing products, chemicals, car mats, dashboard and cell phone accessories, we are the one and only source for all your car wash supplies and auto needs. Also, we stock what we sell; therefore, our shipping record is the fastest and most excellent in the industry. Our knowledgeable and friendly staff is ready to assist with placing, shipping and tracking your order.
For more information, please visit our web page.