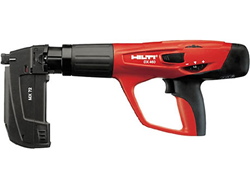 Irvine, California (PRWEB) March 21, 2014
The powder-actuated fastening tools available at Bird-B-Gone make installing bird netting into wood, concrete or steel structures much easier than before. "There is almost nothing these tools can't get through, from dry-wall to steel beams and bridges. We'll be recommending the powder-actuated tools to all our authorized bird control installers who have large bird netting jobs that require repetitive fastening," says Mike Dougherty, a Bird Control Engineer at Bird-B-Gone. "The DX460 is fully automatic, eliminating the need for an air compressor — that goes a long way when installing bird netting."
The powder-actuated tools are designed for fastening applications where nails, threaded studs and composite fasteners are driven into concrete, steel and sand-lime block masonry. Hilti tools operate on a piston principle which provides the assurance of optimum operator safety and fastening reliability. "We want to ensure our customers have all the tools necessary to make installing bird netting as efficient and effective as possible, and the Hilti tools are definitely an asset to our collection," says Dougherty.
To learn more, visit http://www.birdbgone.com or call (800) 392-6915.
Bird-B-Gone is the world's largest manufacturer and distributor of professional bird control products, providing effective and humane solutions to a bird-free environment. Since 1992, Bird-B-Gone products have helped solve pest bird problems in commercial, industrial and residential settings across the globe. Bird-B-Gone proudly manufactures their products in the USA ensuring they meet the highest quality standards in the industry.