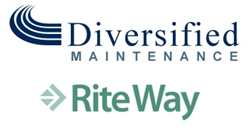 "This is an extraordinary day in the proud history of Diversified Maintenance Systems, LLC and Rite Way Service, LLC. We will be integrating our resources, leadership and collective expertise of 57 years." Alan Butcher, CEO
Tampa, FL (PRWEB) March 21, 2014
The acquisition, which is part of Diversified's long-term growth strategy, has successfully increased its service capabilities in multiple industries including manufacturing and industrial, office buildings, education, government, healthcare and utilities. "This is an extraordinary day in the proud history of Diversified Maintenance Systems, LLC and Rite Way Service, LLC. We will be integrating our resources, leadership and collective expertise of 57 years," stated Alan Butcher, CEO Diversified Maintenance Systems, LLC. "This alliance will increase our company's service capability, diversify our customer base and create significant value for stakeholders," he further stated.
Rite Way Service, LLC, which will operate as a separate division of Diversified is a market leader in the Southeast where it has a strong presence. "Diversified's service quality, reach and technology are well recognized in the industry. Combine that with Rite way's support and differentiated expertise, you have a powerful combination that offers the best in class janitorial. We are thrilled to be associated with Diversified as it enhances our capacity and geographic presence," said Anthony Lepore, former CEO of Rite Way Service, INC.
About Diversified Maintenance Systems, LLC
Diversified Maintenance Systems was established in 1997 and is a nationally recognized provider of quality janitorial and facility management solutions. Headquartered in Tampa, FL, Diversified's clients include the country's leading brands in Retail, Grocery, Logistics, Specialty and Education. Diversified's unique value proposition is its industry benchmark business intelligence tool and compliance procedures. The company offers customized floor maintenance programs, special projects including wet work, power washing, window maintenance programs, carpet care and other labor managed services.
Headquartered in Birmingham, AL, Rite Way has over 40 years of experience in providing janitorial services to customers in manufacturing, industrial, office buildings, banking, education, government, healthcare and utilities. The company's name is a result of showing customers how cleaning is done the right way. Rite Way invests in its internal customers and undertakes comprehensive training on procedures, technology and safety practices. It also has a web-based quality assurance system to ensure customer satisfaction and real time reporting at all levels.