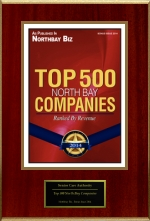 This is quite an honor for us. The fact that Northbay Biz included Senior Care Authority in its selection of "Top 500 North Bay Companies
Fairfield, CA (PRWEB) March 20, 2014
Announcing a special recognition appearing in the March, 2014 issue of Northbay Biz published by Gammon LLC. Senior Care Authority was selected for the following honor:
"Top 500 North Bay Companies"
Frank M. Samson, CSA, founder of Senior Care Authority commented on the recognition: "This is quite an honor for us. The fact that Northbay Biz included Senior Care Authority in its selection of "Top 500 North Bay Companies" signals that our constant efforts towards business excellence are paying off. We are proud to be included in this recognition."
Samson was also honored as the Senior Spirit CSA Spotlight by the Society of Certified Senior Advisors. "I was also thrilled to be asked to contribute to this publication of such a professional organization in our industry," he continued.
Senior Care Authority™ is a no-cost service for families and offers personalized assistance and guidance through numerous long-term care options. The company services families in the North Bay and throughout the country through its network of professional, full-service placement agencies.
Following the publication of Senior Care Authority's selection for Northbay Biz's Top 500 North Bay Companies list, American Registry seconded the honor and added Senior Care Authority to the "Registry of Business Excellence™".
For more information on Senior Care Authority, call (888) 809-1231 or visit http://www.SeniorCareAuthority.com.
This press release was written by American Registry, LLC with contributions from Senior Care Authority on behalf of Senior Care Authority and was distributed by PR Newswire, a subsidiary of UBM plc.
American Registry, LLC is an independent company that serves businesses and professionals such as Senior Care Authority who have been recognized for excellence. American Registry offers news releases, plaques and The Registry™, an online listing of over 2 million significant business and professional recognitions. Search The Registry™ at http://www.americanregistry.com.
Contact Info:
Senior Care Authority
Email Address: frank(at)seniorcareauthority(dot)com
Senior Care Authority Selected For "Top 500 North Bay Companies".
Source: Senior Care Authority