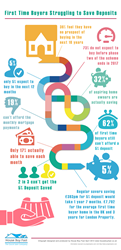 Worthing, West Sussex. (PRWEB UK) 21 March 2014
With the talk of the recent UK budget fresh on everybody's minds, we at House Buy Fast have decided to make a handy infograph displaying why first time buyers are struggling to save deposits. We take a look at the facts and figures from the newly extended help-to-buy scheme.
Now if you don't know about the help-to-buy scheme, the Government offers mortgage lenders the option to purchase a guarantee on mortgages where a borrower has a deposit of between 5% and 20%.
Although this scheme is meant to give prospective buyers more confidence into obtaining a mortgage, we have found that 36% feel they have no prospect of buying in the next 10 years. While 73% do not expect to buy before phase two of the help-to-buy scheme ends in 2017.
For more information check out the article here.