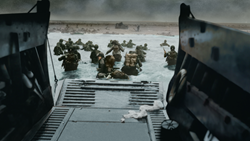 Dearborn, MI (PRWEB) March 20, 2014
The new film, D-Day 3D: Normandy 1944 at The Henry Ford IMAX Theatre starting March 28, will shine a light on a pivotal point in our nation's history. This film, to be shown for the first time ever on Michigan's largest screen, provides insight to both teach and remind audiences of the largest-ever allied operation and its lasting effect on the world.
Narrated by Tom Brokaw, D-Day 3D: Normandy 1944 explores history, military strategy, science, technology and human values behind the events leading up to the June 6, 1944 operation. Using animated cartography, archival pictures, aerial shooting, sand animation, live-action re-enactments and CGI reconstitutions, the film tells the true stories of the soldiers and civilians that gave their lives in this battle for freedom during World War II. D-Day itself is well-known, yet very few people are aware of exactly why and how, during 100 days in the summer of 1944, Normandy became the most important place in the world.
D-Day 3D: Normandy 1944 is presented by 3D Entertainment Distribution and is a N3D LAND Production film written by Pascal Vuong. For more information on tickets and showtimes, visit http://www.thehenryford.org/imax.
The Henry Ford IMAX Theatre is located at 20900 Oakwood Boulevard in Dearborn. For information on tickets and showtimes, please call (313) 982-6001 or visit the website at thehenryford.org.
About 3D Entertainment Distribution
3D Entertainment Distribution (3DED) is the theatrical sales and marketing arm of 3D Entertainment Films, a vertically integrated company founded in 2001 and focused on the production and the distribution of innovative 3D films for giant screens both in 15/70 and digital cinemas worldwide. The cornerstone of the Company's film catalogue is a unique underwater film trilogy presented by Jean-Michel Cousteau that has grossed over USD 86 million at the box office. In 2010, the Company successfully launched its first acquisition, the USD 20 million-grossing "Sea Rex 3D: Journey to a Prehistoric World" by French production company N3D LAND Films. This was followed up with 2012's "Air Racers 3D," narrated by Paul Walker, and "Kenya3D: Animal Kingdom" in 2013. Beginning in March 2014, 3DED will release "D-Day: Normandy 1944," from the director and producers of "Sea Rex 3D: Journey to a Prehistoric World," in 3D and 2D at IMAX® and digital cinemas worldwide. This large format documentary, produced entirely in 3D, provides a new, penetrating look at this monumental event that forever changed the course of history. The Company's upcoming line-up for 2015 includes "Oceans 3D" (working title), the first large format film directed by ocean explorer Jean-Michel Cousteau, as well as "Patagonia 3D: Sea Life Haven" (working title). The company has offices in Weybridge (UK) and Los Angeles (California). For more information, please visit http://www.3DEfilms.com
About The Henry Ford IMAX Theatre
Part of The Henry Ford – America's Greatest History Attraction – The Henry Ford IMAX Theatre opened in 1999 and is Michigan's largest IMAX theatre having the capability to show both 2D and 3D IMAX films. The theatre features Michigan's largest IMAX screen – over six stories tall & eight stories wide, highest seating capacity, and a 12,000-watt 6-channel digital surround sound system. IMAX films are projected via a 15,000-watt xenon arc lamp utilizing 15-perforation/70mm IMAX film stock (ten times larger than conventional 35mm film) which offers the best-possible image reproduction in motion picture projection. With crystal-clear images, 12,000 watts of digital surround sound, and a maximized field-of-view on its gigantic IMAX screen, The Henry Ford IMAX Theatre provides Michigan's most immersive and powerful movie experience – visitors will feel as if they are truly IN the movie they're watching. For film updates and additional information, visit thehenryford.org or connect with us on Facebook at facebook.com/imaxhenryford.
IMAX®, IMAX® 3D, IMAX DMR®, Experience It In IMAX®, An IMAX 3D Experience® and The IMAX Experience® are trademarks of IMAX Corporation. More information about the Company can be found at http://www.imax.com. You may also connect with IMAX on Facebook (http://www.facebook.com/imax), Twitter (http://www.twitter.com/imax) and YouTube (http://www.youtube.com/imaxmovies).