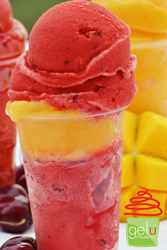 There's nothing like it in town!
Grand Junction, CO (PRWEB) March 21, 2014
Gelu will be giving out Italian ice downtown on Main Street, Saturday, March 22nd. This free day will act as the kick-off to Gelu's Italian Ice season. Gelu will be serving between 1 p.m. and 3 p.m. near Wells Fargo on 4th and Main Street. Limit one serving per customer.
Mobile carts will carry the refreshing desserts throughout Grand Junction's hot summer days at various locations. Customers and patrons can follow the official Twitter account @gelu_ice to find exact locations and flavors of the day! Along with sporting events and fundraisers, Gelu will also be featuring their ices at local Farmers' Markets and festivals.
Gelu products are made with the help of the Business Incubator. Analisa Pearson runs the Business Incubator in town and has worked with Gelu for the past seven months.
"Their product was a huge hit. It's not like shaved ice, gelato, or ice cream. It's better and fresher and there's nothing like it in town," Pearson said. "They [the owners] are such nice people and so hard working!"
Grand Junction local Matt Guedes also loves the east coast inspired dessert since he grew up in Pennsylvania and it reminds him of home.
"Growing up in the Northeast United States Italian ice and water ice were part of life. I have missed that part of my life for eight years now being out west. I don't have to miss it anymore because Gelu Italian Ice has brought the taste of the Northeast to the West. I love their ice and the fact that it is natural and fresh," Guedes said.
It is clear that Gelu made a memorable impression last season, but this year they are geared up for bigger and brighter events. They are hoping to reach a wider and more assorted demographic this year with new events and more mobile carts.
"We didn't 'hit the streets' until August last year, but the response was incredible! During the off-season we purchased a couple more carts so we can be in more than one location at a time. We're geared up and are really excited to see what we can do with a full summer of events this year," co-owner of Gelu, Karin Gookin said.
"In fact, we want to kick off this season and welcome spring with a free cup of Gelu Italian Ice for everyone! We make Gelu fresh ourselves at the Business Incubator with local produce whenever possible. Our favorite part of the job is letting people try our ices for the first time, which is why we thought we'd start out the season with a free day."
More about Gelu:
Gelu Italian Ice is Grand Junction, Colorado's premium Italian ice vendor. At Gelu we are dedicated to good taste, healthy living and having fun! Our Italian water ice is a perfect mixture of fruit, water and sugar blended into a smooth, refreshing dessert. Gelu Italian Ice is based in Grand Junction, the "banana belt" of Colorado, where vineyards and fruit orchards are prevalent. We take pride in where we live and use locally grown fruits whenever possible. Our mission is to provide the highest quality and best tasting products for our guests.