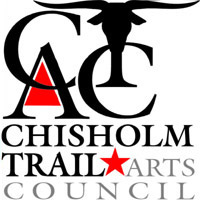 Duncan, OK (PRWEB) April 11, 2014
The mission of CTAC is to provide accessible artistic programs that enhance the quality of life, economic development and educate the people of Stephens County. Their new festival, ArtWalk, scheduled for June 7th, 2014, will be a great compliment to their current programs: LIVE concert series, Arts Explosion summer camps for youth, teens and adults and art education in schools, ArtSmart. CTAC endeavors to ensure that the arts continue to thrive in Stephens County, and all proceeds from the new festival will benefit their programs.
The festival will have arts and crafts on display and for sale, scheduled entertainment by Duncan Little Theatre, local musicians and more with Kiwanis Kiddieland open later in the evening.
CTAC is currently searching for artists, artesans, crafters and food vendors to be a part of this inaugural festival. Vendor booth space available will be indoor for $35(limited spacing) or outdoor for $25. Booth spaces are 10x10 and vendors must provide their own table, chairs, backdrops etc. Electricity will be available upon request. Vendors will be selected by the ArtWalk committee to reflect a wide variety of artistic mediums and crafts.
For more information, contact the CTAC office at 580-252-4160 or director(at)chisholmtrailarts(dot)com.