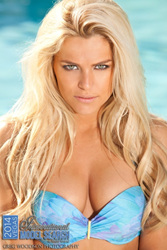 Where Dreams Can Come True
Las Vegas, Nevada (PRWEB) March 28, 2014
Growing up in the forbidding, desolate and arid 100,000-acre Karoo Desert in South Africa, Adeline Mocke dreamed of getting out and getting to Capetown. Once there struggling as a student, the dream became bigger, and she set her sights on getting to America.
She took out a loan to get her green card to the United States, and, landing in California, Adeline then had to figure out a way to pay for college and pay off the bank debt simultaneously.
She gambled on a trip to Las Vegas and entered the Miss Las Vegas International Model Search at MGM Grand on Saturday night. It was her first time strutting down the runway in the briefest of bikinis and the most revealing of evening gowns.
Our thanks to contributing photographers Tom Donoghue and David Tingey of Donoghue Photography for their pageant photo galleries and contributing videographer Richard Corey for his video posted on YouTube.
When 23-year-old Adeline arrived here earlier in the week to prepare, the first thing that went wrong was she came down with a cold and lost her voice, and her eyes flared up.
On Friday, everything had worsened. By nighttime, when she was introduced to the judges for the first time, she couldn't speak. Instead of partying with sponsors at Hakkasan's Ling Ling Club, she headed for bed with hot tea and honey.
On Saturday, she prepared for the pageant with hairspray and makeup and drew position lucky No. 7 in Saturday night's lineup of 50 hopefuls from 19 countries competing in the debut $50,000 Model Search. Former Miss USA and Miss Hawaiian Tropic host Jimmy Gibson was the MC.
Hakkasan resident DJ Tiesto, Chris Phillips of Zowie Bowie, Mrs. United States 2005 Dr. Chiann Fan Gibson, Trifecta Entertainment CEO Hank Cohen and other TV execs joined me as judges. The super talented Lydia Ansell entertained with her lit-up electric violin as music for twin hula-hoop dancers in latex.
Adeline made it to the final 10, and then her name was called as the winner. She burst into tears as she was presented with a bouquet, her tiara and the winning $25,000 check.
Other cash-prize winners: Avril Mattie of Australia (first runner-up); Elizabeth Ruiz of Cuba (second runner-up); Billie Powers of Pennsylvania (third runner-up); and Rebecca Andrews of Louisiana (fourth runner-up).
"I can't believe this," Adeline sobbed. "A dream from long ago has come true. In the desert where I come from, nobody believed that I would ever leave there. When I got to Capetown, nobody believed I would ever get to America. Now I can pay off the bank loan. I can continue my studies, and I can stay in America. Dreams do come true however big you dream."
An expanded summer version of the International Model Search will take place in August at MGM Grand.
"The pageant was a tremendous success as a first-time effort. It will now grow and get even bigger with larger prizes," Jimmy told me. "Eventually, we want a gorgeous girl from every country in the world and every state in America taking part here for a week and then having 50 finalists until we find the most beautiful model in the world. Our next Las Vegas Model Search will be back at MGM Grand in the fall."
"We want it to be an incredible life changer for them. They can go from being unknowns to major movie and TV stars."
Robin Leach
Vegas DeLuxe