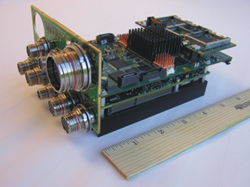 Fairfax, Virginia (PRWEB) March 22, 2014
Trident Systems Incorporated has begun limited production of the RAPTOR, a compact multifunction RF transceiver which sets a new standard for size, weight and power in a high-speed digital RF transceiver/processor. The RAPTOR is a fully digital software controlled transceiver with an arbitrary waveform generation capability for transmitted signals, and up to four simultaneous channels of A/D conversion at up to 3GSPS on receive. This powerful highly integrated platform for advanced wideband RF applications weighs in at less than five pounds and consumes less than 50W of operating power.
Designed to be highly flexible and reconfigurable on-the-fly, the RAPTOR has large banks of high-speed memory and numerous high-speed interfaces supporting very high data throughput and over 1GHz of instantaneous bandwidth for multichannel RF transmit and receive operations. Innovative frequency management provides a flexible platform for agility across multiple frequency bands, and tight control over RF front ends.
An integrated Virtex-5 FX100 FPGA and Trident's open firmware architecture provides the foundation for users to get complex high-speed RF applications up and running in time constrained development schedules. High level waveform generation and data acquisition functions are provided, as well as rapid mode switching between up to three processor loads. Over 50% of the FPGA processing blocks are reserved for user application firmware. Trident can also provide application processing blocks such as FIR filters and FFTs as well as custom configuration of real-time processor loads to customer specifications. An integrated i7 CPU provides a platform for system command & control, and complex process flow management.
The RAPTOR has been successfully employed in development of a miniature four channel Ku-band GMTI/SAR radar for a US Navy UAV program, and demonstrated as a DRFM under Navy sponsorship. A space qualified version of the RAPTOR is also in development under NASA sponsorship.
"We're very gratified by the strong interest in RAPTOR from both industry and government RF systems engineers," said Dan Bindbeutel, Trident's Director of Radar Systems. "It represents a new size, weight, power and cost benchmark for high-performance programmable digital RF systems, and serves as an example of how the convergence of digital RF technologies enables true multimode, multifunction operation on a common hardware set. We look forward to supporting development of the new compact affordable systems that it will enable."
The RAPTOR benchtop development system is currently shipping in small quantities to selected customers on a 14-week delivery timeline after receipt of order.
About Trident
Trident Systems is a veteran-owned small business that delivers innovative and affordable technology solutions for critical government and commercial needs. Founded in 1985, Trident continues to harness technology and provide leading-edge solutions to every Military Service, the Intelligence Community, and a broad spectrum of government and industry partners. Trident develops products in three primary focus areas: Integrated C4I systems, Radar Systems, and Assured Collaboration Systems. Trident also provides an array of services from Complex Systems Engineering services for complex system development as well as Collaboration Services, providing a full range of design / build services for state of the art facilities including supporting of the Integrated Air Defense System in the National Capital Region. Trident's headquarters is located in Fairfax, Virginia. For more information, visit http://www.tridsys.com/.