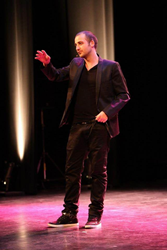 "Kallagan is wildly popular in Paris and his style of comedy is successful around the world."
New York (PRWEB) March 20, 2014
The Greenwich Village Comedy Club and B.Productions present "French Comedy Nights," featuring Kallagan, a famous comedy star of Parisian stages and French television, April 3 and 8. Tickets are $20 online at BrownPaperTickets.com, at http://www.kallagan.fr/, and by calling Brown Paper Tickets' 24/7 live event concierges, offering assistance in English, Spanish and French, at 1-800-838-3006.
"French Comedy Nights will be a rare treat for those hungry for a taste of the French style of entertainment and humor," said Arnaud Benjamin of B.Production. "Kallagan is wildly popular in Paris, and his style of comedy is successful around the world."
Kallagan is one of the biggest success stories of the French comedy world. His comedy debut in 2005, "Le premier one woman show joué par un mec" (The First One-Woman Show Played by a Guy), soon became a Parisian success, selling out in its early weeks without any publicity. His follow-up event, "Alors, heureuse ??" (Are You Happy, Now??) at the Théâtre du Petit Gymnase in Paris, was even more successful. More bookings followed in well-known Parisian comedy venues such as Théâtre de la Main d'Or, Point-Virgule, and Théâtre Trévise. Kallagan became a regular guest of comic shows on French television, and in 2008, he debuted in American comedy clubs where he started getting known as "The Frenchy."
Kallagan's style and sense of humor has delighted Francophile audiences at US shows regularly ever since. Still in his 20s, Kallagan already has more than 8 years of comedy experience with 3 different shows, including more than 800 performances in front of more than 200,000 people in 7 different countries. His humor is widely accessible to the public in France and North America. He has opened for Michel Boujenah, Pierre Aucaigne or event Fabrice Éboué at the Casino de Paris and on tour.
"New York comedy shows often carry a high admission price and high ticket fees," said Benjamin. "We want the French-speaking public to feel at home, so we decided to work with Brown Paper Tickets for French Comedy Nights. They offer French-language live event concierge service and online sales 24 hours a day, and still charge the lowest ticketing fee in the industry, something that the French audiences and comedy fans everywhere, appreciate."
Contact :
Arnaud Benjamin
B.Prod French Comedy Night
frenchcomedynight(at)gmail(dot)com
###
About Brown Paper Tickets (http://www.BrownPaperTickets.com): Brown Paper Tickets is a socially conscious global leader in online ticketing and event registration services, helping people in 68 countries to plan, promote and sell out events. As a social innovator, the company donates 5 percent to charities with every ticket sold, supports a team of full-time community advocates, called "Doers," and still charges a ticketing fee that is lower than competitors. How do we do it? The dirty little secret in the ticketing industry is that it doesn't cost that much to ticket events. To learn more about the world's only Not-Just-For-Profit ticketing company, visit http://community.brownpapertickets.com/press/.