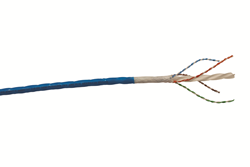 Macedonia, OH (PRWEB) March 20, 2014
TPC Wire & Cable Corp., a leading supplier of wire, cable, connectors and assemblies introduces a new product to its Chem-Gard™ family of cables. The Chem-Gard™ 200˚C CAT6 Industrial Ethernet Cable is a 100 Ohm category cable built to perform in the harshest industrial environments while delivering data communications at up to 250MHz. TPC Wire's line of durable Chem-Gard™ products have a specially designed fluoropolymer jacket and insulation engineered to stand up to corrosive chemicals, constant flexing and extreme cold and heat ranging from -60°C up to 200°C.
In today's industrial environments, taking precautions to avoid extreme temperature, oils and chemicals that come into contact with Ethernet cables can be an advantage in reducing unnecessary replacements and costly downtime. Without the proper protection, a cable's jacket can swell, crack or harden after exposure to chemicals and can even wick the fluids into the cable itself. In addition to chemicals and extreme temperatures, Chem-Gard's unique physical properties also offer resistance to UV light, cutting, abrasion, oil, impact and flame.
The Chem-Gard™ 200˚C CAT6 Industrial Ethernet Cable is perfect for industries whose environments can be unusually severe such as steel, automotive, wood, pulp and paper, transportation, food processing, oil and gas, utility, mining and government. The finely-stranded sliver-plated copper conductors allow for ultimate flexibility and a longer flex-life. The cable also provides superior performance to meet or exceed CAT6 and Ethernet/IP requirements. TPC Wire & Cable's customers will benefit from its use in data processing and information systems, as well as high bandwidth, digital and high data rate applications.
"Many manufacturers run Ethernet cables through conduit or areas where it is exposed to extreme heat, abrasion and chemicals," said Bill Root, TPC Wire & Cable Product Manager. "TPC not only designed its Chem-Gard™ products to provide excellent protection from these conditions, its fluoropolymer jacket also makes the product easy to pull through conduit, eliminating the need for compounds or lubricants."
About TPC Wire & Cable Corp.
TPC Wire & Cable Corp. is a leading supplier of wire, cable and connectors used in harsh industrial environments. TPC Wire & Cable's products are designed and engineered to withstand harsh conditions including abrasion, chemicals, constant flexing and extreme temperatures. TPC serves a variety of markets including the steel, utility, mining, automotive, food and beverage, government, oil and gas, transportation and wood, pulp and paper markets. The company's long-lasting, dependable wire and cable products solve the most difficult application problems in the harshest environments resulting in lower overall costs and increased production time. TPC products outperform and outlast ordinary cable 10:1. For more information about TPC Wire & Cable products, visit http://www.tpcwire.com for more information.