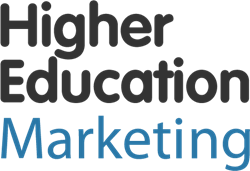 Montreal, QC (PRWEB) March 20, 2014
Higher Education Marketing (HEM) has released a new e-book entitled, "Digital Marketing for Higher Education: Reviewing 2013 Trends to Jump Start 2014," which is now available for free download from its website higher-education-marketing.com.
The e-book features a selection of several of the company's most popular blog articles from last year, organized according to the main digital marketing areas that HEM works in, including web analytics and intelligence, branding and web development, content production and promotion, search engine optimization (SEO), social media marketing, and lead generation for student recruitment. The book begins with a word from CEO, Philippe Taza, and each section is introduced with an insightful overview from a HEM team member who specializes in the respective service.
Changing Paradigms of Higher Education
It is a time of great change and challenge for most colleges and universities, driven by a combination of social, cultural, economic and technological factors. Disruptive forces impacting higher education include the proliferation of private for-profit providers, fewer college-bound seniors, greater student mobility and the legitimization of online learning. The rise of corporate career colleges and Massive Open Online Courses (MOOCs) poses a direct challenge to traditional colleges and universities, and in light of reduced government funding and falling barriers to international markets, it has become an increasingly dynamic and competitive market, to say the least.
Shifting demographics, attitudes and preferences among prospective students, and rapid technological advances are also forcing schools to pursue innovative strategies that integrate content creation with social media, optimize websites with responsive design and user-friendly architecture, develop SEO initiatives, and track and measure web traffic with Google Analytics.
All of these issues and more are elaborated upon in the comprehensive e-book, which features extensive practical guidance for institutions to implement their own digital marketing strategies, including relevant examples of best practices in the industry. The written content is accentuated by helpful diagrams, infographics and highlighted screenshots to make it easier for administrations to apply the research to their unique environments. Higher Education Marketing has also offered interested schools the benefit of their experience and expertise in the field with a complementary follow-up consultation by telephone or email.
About Higher Education Marketing
Since 2008, Higher Education Marketing has been assisting post-secondary education institutions with their digital marketing needs. Through their close collaboration with colleges and universities in Canada and the United States, Higher Education Marketing has consistently helped clients to increase their ROI, by leveraging its expertise in web analytics, search engine optimization, social media, web design and other digital marketing strategies and tactics.