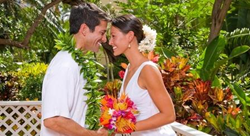 Honolulu, HI (PRWEB) March 20, 2014
The best part: Aston works with each couple to bring all that legendary surf, sun and sand together under any budget, and with plenty of aloha.

Location, location, location: Aston guests can choose from a wide variety of wedding venues, including intimate gazebos and romantic, secluded beaches to lush, landscaped gardens and grand pavilions. With destinations spanning three distinct collections on Oahu, Maui, Kauai and Hawaii Island, there are endless site options and amenities to choose from. Poolside decks, beachfront lawns, barbecue areas, on-site restaurants and function spaces are excellent settings for a rehearsal luau, bridal shower, barbecue or picnic. Choices range from the contemporary Aston Waikiki Beach Hotel, located directly across from world-famous Waikiki Beach, to breathtaking wedding locations along Maui's famed Kaanapali Beach, to the tranquility of Hawaii Island's stunning Waikoloa coastline and Kauai's historic plantation cottages.
Rooms to remember: Complimentary upgrades, exclusive amenities, perks and savings await. Aston provides guests with exceptional value, not only offering an incredible selection of accommodations at the best available rates, but also providing numerous amenities designed to maximize convenience and savings. Fully equipped kitchens, grocery delivery service, large outdoor areas, one-, two- or three-bedroom suites and in-room washers and dryers are available, in addition to exclusive programs like the free Aston Aloha Book, which offers over $2,500 in savings on dining, shopping, activities in Hawaii.
Relax, we've got it covered: Our staff and coordinators work closely with each couple to create an unforgettable wedding experience. On-site wedding coordinators, catering services, and day spas and salons are perfect for relaxing and pampering, along with flexible wedding packages tailored to your preferences. With this kind of exceptional service and expertise, you'll have peace of mind on your big day.
Aloha and diversity: With Hawaii as a leading destination for LGBT guests, Aston Hotels & Resorts properties are TAG Approved®, providing the very best in gay-friendly hospitality, as well as high standards in employment policies, services and support for the gay community.
Visit AstonHotels.com/destinationweddings or call (866) 774-2924 for details. Special group rates are available.
About Aston Hotels & Resorts
Aston Hotels & Resorts operates a diverse range of condominium resorts and hotels with accommodations from hotel rooms and condominium suites, to villas and cottages that suit any lifestyle, taste or budget. Based in Honolulu, the company manages over 4,100 units in 27 properties on the four major Hawaiian Islands, South Lake Tahoe, California, Lake Las Vegas, Nevada, and Orlando, Florida. For more information, visit http://www.AstonHotels.com or call toll free 866-774-2924.