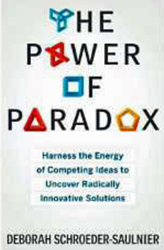 (PRWEB) March 20, 2014
Rudy Agency author Deborah Schroeder-Saulnier's debut book, The Power of Paradox: Harness the Energy of Competing Ideas to Uncover Radically Innovative Solutions will be officially launched at a Wednesday, March 26 event at Junior Achievement of Greater St. Louis. Dr. Schroeder-Saulnier, President/CEO of XL Consulting Group, Inc., serves on the Board of Directors of JASTL, which is located at 17339 N. Outer 40 Rd., Chesterfield, MO 63005 [Ph: 636 728-0707].
Media are invited to the event, which starts at 5:30 PM.
"Paradox thinking enables balanced management of conflicting objectives," notes Schroeder-Saulnier. "A company wants to be known for innovation-change at the same time customers embrace it for its stability, to thrill shareholders with strong short-term revenue results and concurrently take actions to ensure long-term health. From those two examples alone, it should be easy to see how failure to manage a critical pair of opposites results in the company stumbling and, perhaps, failing."
In the book, Schroeder-Saulnier reveals a dynamic critical-thinking process anyone can use to define the strategic tensions within his or her organization. She shares the same steps she's used to help Fortune 500 companies as well as regional not-for-profits.
Complete with detailed case studies of companies that achieved a competitive advantage with this breakthrough strategy, The Power of Paradox will help executives face chronic challenges with confidence and uncover unexpected and infinitely better solutions.
"When you begin to think in terms of 'and,' you have a powerful tool for solving problems and achieve goals," states Schroeder-Saulnier.
ABOUT THE AUTHOR
Deborah Schroeder-Saulnier, president and CEO at Excel Leadership Solutions and a former partner at the Clarion Group, is a results-driven executive with a doctorate in management. She has devoted her career of more than 24 years to partnering with CEOs and top leaders to clarify focus and accelerate the pursuit of critical market, business, and leadership priorities. Her work with a variety of Fortune 500 companies worldwide, including Scottrade, Georgia-Pacific, and Boeing, has been centered on collaborative and integrative approaches that solve problems.
The Power of Paradox
Deborah Schroeder-Saulnier
Career Press
978-1-60163-313-2; $15.99
March 2014