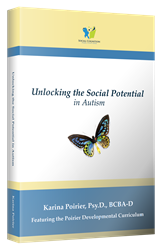 It is important to keep in mind that social competence develops over time.
Orange County, CA (PRWEB) April 02, 2014
For parents, receiving an autism diagnosis for their child can be incredibly emotional. Dr. Karina Poirier, clinical director of The Center for Social Cognition, has penned a new book that seeks to make coping with this news easier. The book features a social skills curriculum for effectively teaching social competence. The Center will also be hosting a workshop, entitled "Teaching Social and Emotional Skills to Children with Autism," on October 23rd and 24th in Irvine, CA.
Since social impairment is the most prominent deficit in autism, even high-functioning children can have difficulties understanding the fundamental rules for social interaction. Dr. Poirier says, "Becoming socially competent does not happen overnight or in a vacuum. We acquire new skills at various developmental milestones to help us to develop the regulatory skills necessary to control and organize our behavior, emotions, and thoughts." Dr. Poirier's book promotes a social interaction-based treatment to help parents and their children overcome those difficulties.
In "Unlocking the Social Potential in Autism," parents will find the social skills curriculum they have been searching for. This book provides an overview of the various domains of child development in neurotypical children, how each developmental domain is affected by autism, and how parents have the power to advance their child's functioning in those developmental areas. The book contains full-color illustrations and sample lessons covering social and emotional skills, language, problem-solving and decision making, and play skills.
Readers can purchase "Unlocking the Social Potential in Autism" online at the Social Cognition Publications store.
About Dr. Poirier:
Karina Poirier, Psy.D., BCBA-D is the founder of the Center for Social Cognition whose clinical practice is devoted to providing outstanding one-to-one and group therapy to improve social outcomes for individuals with Autism, ADHD, and Traumatic Brain Injury. Her current research interest includes the role of social interaction-based treatment for improving both theory of mind and executive function in children with autism.
http://www.drkarinapoirier.com
About The Center for Social Cognition:
The Center for Social Cognition is dedicated to developing and enhancing children's social, emotional, behavioral, cognitive, and communications skills—the skills that allow individuals to participate meaningfully in society and to enjoy life. The Center's intervention approach emphasizes people and settings through relevant teaching activities that promote generalization beyond the clinical environment. The Center for Social Cognition offers social skills therapy and an autism intervention program developed and implemented by Dr. Poirier.
http://www.centerforsocialcognition.com/