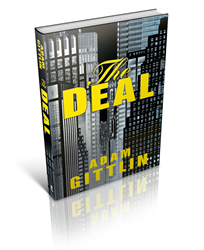 "A well-written thriller…The history of the missing Fabergé eggs is fascinating…the author has an excellent attention to detail which makes the book really come to life."—Reviewing the Evidence
Longboat Key, FL (PRWEB) March 21, 2014
Within days of the release of THE DEAL: ABOUT FACE by Adam Gittlin, a scrap metal dealer finds one of the eight missing Fabergé Imperial eggs at a flea market. The eggs, originally created by Fabergé for Russian royalty, play a major role in Gittlin's THE DEAL trilogy. In book one (THE DEAL) the Fabergé Danish Jubilee Egg, one of the missing eggs, makes an appearance in the headlines: "Prized Fabergé egg, worth reported thirty million, stolen from U.S. Mission to the UN on East Side."
From Book One—THE DEAL:
"Fabergé Easter eggs. Many consider these little masterpieces some of the finest works of art on the planet; I know this because a girl I used to date was infatuated with them. Any time we passed a Barnes and Noble she'd drag me inside to thumb through the big, colorful coffee-table books about them. She even gave me the book as part of my birthday present one year so she could look through it when over at my apartment. They were designed by, and named after, Peter Carl Fabergé. In 1885, as Easter was to mark the twentieth wedding anniversary of Czar Alexander III and Czarina Maria Feodorovna, Alexander wanted a one-of-a-kind gift for his wife. At the time the work of a young jeweler, Peter Carl Fabergé, had recently caught Maria's eye. Therefore Alexander deemed young Fabergé the perfect man to be commissioned for such a special gift."
Synopsis from THE DEAL (Trade Paper ISBN: 978-1-60809-106-5, $15.00, also available in all digital/ebook formats):
"Everything about Jonah Gray screams success – expensive clothes, a Park Avenue penthouse, and a seven-figure income. A cutthroat, rainmaking New York city commercial real estate broker, Jonah craves opulence and power. He beds models, romps the globe on the weekends and sees the world as his for the taking. Jonah Gray has it all. Or at least he had it all.
When a friend presents Jonah with the deal of a lifetime, Jonah jumps at the chance. All Jonah has to do is act quickly, invest half a billion dollars in prime NY office buildings, and collect a huge payoff.
But this golden opportunity is anything but. Within days of signing on, Jonah is mysteriously thrust into the epicenter of an international and personal scandal involving murder and a stolen Fabergé Imperial egg.
Forced to explore a whole new territory where he can trust no one, and where danger, death and deception lurk at every corner, Jonah will learn some painfully hard lessons about the quest for easy money.
Closing this deal could mean losing everything."
Book Two, THE DEAL: ABOUT FACE (Hardcover, ISBN: 978-1-60809-107-2, $26.95, also available in all digital/ebook formats) picks up nine years later:
"New York City commercial real estate power-broker Jonah Gray has finally resurfaced and he has a lot of unfinished business. Since becoming a fugitive and fleeing his own country, the road traveled has been a long and shocking one. And it has been a road of singular purpose: the methodical preparation for his return.
Saddled nine years ago with a rare Fabergé Imperial Easter Egg thought lost in the Russian Revolution, Jonah made sure the treasure ended up at its destination. In keeping it from his conniving half-brother, he also inadvertently killed a dirty New York City cop, and his own father was murdered in cold blood.
Jonah is unsure which is greater: all he lost in this world, or all he has learned about himself. One thing is certain. It is time.
Time for ruthlessness. Time for payback. Time for truth. Time for redemption. Time for a new deal.
Jonah believes he is ready for everything that is about to happen. The question remains…is everyone else?"
For more information on the recent discovery of one of the missing Fabergé Imperial eggs, visit: http://www.nbcnews.com/news/us-news/scrap-dealers-bargain-turns-out-to-be-faberge-egg-n57131 .
Both titles are available through your favorite book seller or public library.
###