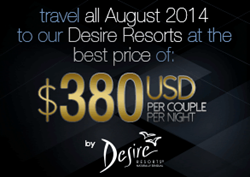 Cancún, México (PRWEB) March 25, 2014
Take advantage of the Desire Black Sale and relax. Guests will be staying either at Desire Pearl or Desire Riviera Maya. So rest assured people will enjoy the most pleasurable couples only escape at Desire Resorts.
It takes only 3 simple steps:
1. On April 1st and 2nd, check availability between August 1st and August 31st.
2. Book the getaway. (Guests will receive a confirmation email)
3. Two weeks before guests arrival we'll let them know through an email which Desire Resort and room category they are staying in.
Remember:
· Booking Dates: Only the 1st and 2nd of April, 2014.
· Dates for Traveling: From August 1st to 31st, 2014.
· No changes are allowed in the hotel or room category.
· Minimum stay of 3 nights.
· Full payment is required.
· No refunds.
· Not applicable or combined with other promotions.
· Subject to availability.
· Other restrictions may apply.
All August Event info:
Desire Resorts, hotels with the most appealing clothing optional concept of the world, have the great pleasure to inform that they will be hosting the "Young & Wild" event.
All August 2014 will be a synonym of fun and tempting fantasies for our guests at Desire Resorts.