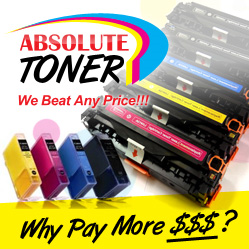 Backed by Absolute Toner's Lifetime Warranty as well as their 100 percent customer satisfaction guarantee
Toronto, Ontario (PRWEB) March 25, 2014
Absolute Toner, a Toronto based, web store that offers laser toner cartridges, has announced the availability of black laser toner cartridges for the Samsung MLT-D103L. These replacement cartridges offer superior quality as well as exceptional prices and are the perfect replacement for name brand cartridges for the price conscious customer.
The compatible black laser toner cartridges for the Samsung MLT-D103L works with a variety of printers including the Samsung ML-2950, ML-2951, SCX-4729FD, ML-2950D, ML-2951D, SCS-4729FW, ML-2950ND, SCX-4728FD. The cartridge provides 2,500 pages with 5 percent coverage and is backed by Absolute Toner's Lifetime Warranty as well as their 100 percent customer satisfaction guarantee. Buyers can expect to save up to 90 percent on the standard cost of name brand toners when they save with the compatible black laser toner cartridge for the Samsung MLTD103L.
The toner products that Absolute Toner sells, provide a dedicated service to one brand, as opposed to many other replacement cartridges which are considered universal, working on a variety of printers and copiers. The dedication to one brand allows the cartridges to provide exceptional quality for the designated printer, allowing customers to achieve the level of quality that they desire at a much lower price than the name brand cartridges would cost. This enables customers to purchase name brand, high quality printers without the worry of keeping them up with quality toner and ink cartridges.
You can see their newly released product at
http://www.absolutetoner.com/samsung-toner-cartridges/1053-samsung-mltd103l-toner-cartridges-compatible.html.
The toners supplied by Absolute Toner do not cause smears or provide poor prints as many replacement cartridges provide. Each toner is tested before shipment to in order to ensure the highest quality and to allow Absolute Toner to stand behind their satisfaction guarantee for each product that they ship. Absolute toner is a company that stands behind their products and their pricing, ensuring each customer that they are guaranteed a proper resolution to any problem that they might have with a product sold by Absolute Toner.
Absolute Toner is able to offer these low prices on compatible cartridges by reducing their overhead and carrying the savings over to its customers. Absolute Toner operates as a web based store in order to keep its costs down, allowing them to provide lower prices to its customers, which is why thousands of customers turn to them for their toner and ink cartridge needs on a daily basis.
For more information about black laser toner cartridges for the Samsung MLT-D103L or any other replacement cartridges, consumers can visit Absolute Toner online or call 877-437-5364.
About Absolute Toner:
Absolute Toner is based in Toronto, but offers shipment throughout many areas, allowing customers everywhere to obtain superior cartridges at low prices. Absolute Toner's focus is on customer satisfaction, which is why they work hard to ensure the quality of every product that leaves their store. Visit the online store http://www.absolutetoner.com offering a large variety of products for home and business, including compatible laser toner cartridges, compatible ink cartridges and toner refill.