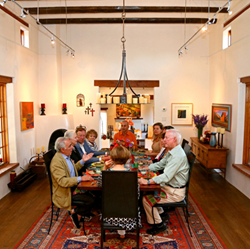 One of the things guests love about this event is the element of surprise that comes from not knowing where, or with whom, they'll dine. - Jenny Kimball, event co-chair
(PRWEB) March 20, 2014
The Santa Fe Community Foundation announced details for the fourth annual Guess Who's Coming to Dinner, an event benefiting the Foundation's Community Leadership Fund. A fixture of the Santa Fe summer social scene, Guess Who's Coming to Dinner will be held on July 19, 2014.
Guess Who's Coming to Dinner consists of more than 20 simultaneous dinners in some of the finest homes of the city, catered by some of the best chefs in Santa Fe. Guests only learn of the location of their dinner about a week before the event. This year's hosts include Valerie and Bud Hamilton, Alexis and Marshall Girard with Pat and Michael French, Will Prull and Jodi Vevoda, and Foundation board chair Hervey Juris, his wife Leslie Nathanson-Juris, and board member Tricia Rosenberg and will feature food by the Santa Fe Culinary Academy, Joseph Wrede, and Adobo Catering, among others.
Once dinners conclude, guests will come together for a dessert party at the Santa Fe University of Art and Design's Fogelson Library, sampling creations from Café Pasqual's, Todos Santos, Clafoutis, C.G. Higgins Confections, Revolution Bakery, Zia Diner, Harry's Roadhouse, and more.
"One of the things guests love about this event is the element of surprise that comes from not knowing where, or with whom, they'll dine," said Jenny Kimball, the event's co-chair. "Guess Who is a twist on the traditional fundraising model because it consists of intimate dinners in your neighbors' homes followed by a dessert party with a truly communal feeling to it."
Alex Hanna, co-chair, added, "We are very excited that this year's dessert party will be held at the Santa Fe University of Art and Design's architecturally significant Fogelson Library, a space we are able to use only because of upcoming renovations. Guests should be prepared for great entertainment, which is new for this event."
Guess Who's Coming to Dinner, the non-gala gala of the summer season, is a refreshing take on fundraising for an important cause in the community. Guests enjoy an entertaining night out, an intimate gathering with new friends, and a little bit of mystery, too. Proceeds from the event support the Community Leadership Fund at the Foundation, which allows the Foundation to make grants to support local nonprofits, program educational events for nonprofits and the public, and provide support for donors as they achieve their philanthropic goals.
Tickets are $145 and can be purchased by visiting www(.)guesswhoinsantafe(.)org or calling the Foundation at 505-988-9715. This popular event sells out quickly!
To contact the Santa Fe Community Foundation directly about this event:
Contact: Jon Quinn, 505-988-9715, jquinn(at)santafecf(dot)org
For media inquiries, contact:
Jennifer Hinsley
505 603 8643
Jennifer(at)jlhmedia(dot)com
###
About the Santa Fe Community Foundation: Founded in 1981, the Santa Fe Community Foundation is a tax-exempt public charity that works with values-driven donors who live in or have an affinity for Santa Fe and Northern New Mexico, to meet their charitable goals. SFCF provides funding and technical assistance to nonprofit organizations that will enable them to carry out their essential work efficiently and effectively. SFCF funds nonprofit programs serving the populations in Santa Fe, Los Alamos, Mora, Rio Arriba, San Miguel and Taos Counties.
The Santa Fe Community Foundation is devoted to building healthy and vital communities where racial, cultural or economic differences do not limit access to health, education or employment; diverse audiences enjoy the many arts and cultural heritages of our region; and all sectors of our community take responsibility for ensuring a healthy environment.