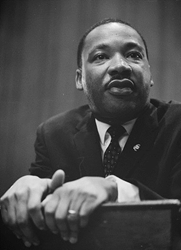 Vision to Victory is an expression of United's longstanding commitment to the African American Church and our respect and admiration for Dr. King,"
Dayton, OH (PRWEB) March 22, 2014
On April 8 and 9, 2014, United Theological Seminary will host Vision to Victory, an annual celebration honoring the life and ministry of Dr. Martin Luther King Jr. around the time of his martyrdom.
This year's guest speaker is Dr. Otis Moss, Jr. theologian, pastor and civic leader. Dr. Moss will speak at 7 p.m. on Tuesday, April 8, at Grace United Methodist Church, 1001 Harvard Blvd., Dayton, OH, and on Wednesday, April 9, at 12:30 p.m. at United's campus at 4501 Denlinger Rd., Dayton, OH.
Dr. Moss is one of America's most influential religious leaders and highly sought-after public speakers. He was a board member of the Southern Christian Leadership Conference during Dr. King's tenure as founding president and also served as national board member and trustee of the Martin Luther King, Jr. Center for Non-violent Social Change.
He is pastor emeritus of Olivet Institutional Baptist Church in Cleveland, OH. President Barack Obama named him in 2009 to serve on the newly established 25-member White House Advisory Council on Faith-based Neighborhood Partnerships. He also serves on the board of trustees at Morehouse College, where he earned two degrees. He also received a Doctor of Ministry degree from United Theological Seminary in 1990. He has pastored several churches and was co-pastor with Dr. Martin Luther King, Sr., at Ebenezer Baptist Church in Atlanta.
"Vision to Victory is an expression of United's longstanding commitment to the African American Church and our respect and admiration for Dr. King," said United President Wendy Deichmann.
For more information please visit United's Website and choose Events.
United, now in its 143rd year, is one of the fastest growing theological schools in the United States. It was founded in 1871 by Milton Wright, a Bishop in The United Brethren Church and father of Wilbur, Orville and Katherine Wright. United offers accredited, innovative graduate and non-degree education programs for both clergy and laity.