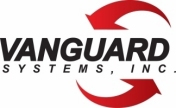 Aston, PA (PRWEB) March 21, 2014
Vanguard Systems, Inc., a leading Enterprise Content Management (ECM) provider for more than 25 years, announces the release of their Accounts Payable (AP) Automation solution, offering substantial cost savings to companies' accounts payable operations. This is in addition to other Vanguard solutions ideal for IBM i, Oracle, SQL and Windows operating system environments.
Keith Engberg, head of Sales and Marketing, commented "An organization's accounts payable department serves an important role in ensuring their liabilities are paid accurately and quickly, capturing any favorable payment terms, while strictly adhering to established approval guidelines. Vanguard's AP Automation solution eliminates paper wrangling and data entry, freeing knowledge workers to focus on core initiatives and/or freeing the organization to reallocate resources."
Vanguard gives customers two different options to load their invoices. One option allows customers to utilize Vanguard's Payables Lockbox and outsourced data entry services, providing 97% data capture accuracy and 24-48 hour turnaround upon invoice receipt. This option completely eliminates manual invoice collation and in-house data entry. The second option leverages Vanguard's DigiDoc advanced OCR data extraction technology, which transforms static documents into usable data assets. This option is well suited for customers that have the highest standards with regard to keeping documents within the physical confines of their organization.
Vanguard's robust Electronic Content Management solution routes the extracted data and captured invoices for coding and approvals. This process flow is easily configurable to follow any organization's business rules. Removing paper from the vouchering process, elimination of data entry, digitizing approval and coding processes are the greatest benefits of accounts payable automation. These steps remove bottlenecks, reduce costs and optimizes departmental efficiency and constructs vast process visibility.
Customers are encouraged to contact Vanguard to learn more about the opportunity to lower costs with Vanguard AP Automation. Vanguard representatives can work with each prospect individually to determine how much they can save given their specific situation.
Vanguard Systems, Inc. is headquartered outside of Philadelphia, PA, with satellite offices in Ohio and California. Vanguard provides a suite of document imaging, forms design, workflow, data extraction and content management solutions, making the power of information instantly available anywhere across the enterprise. Vanguard provides their clients with a seamless solution covering the entire document lifecycle. Vanguard Systems' offerings that capture, manage and access enterprise content help government and private industry customers improve operations, policy compliance and lower costs.
Additional information about Vanguard Systems is available at http://www.vansystems.com.
Vanguard and any Vanguard product, service name or logo used herein are trademarks of Vanguard Systems, Inc. All other trademarks used herein belong to their respective owners.
###