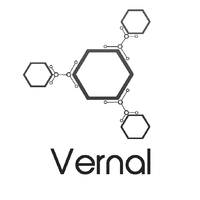 Miami, FL (PRWEB) March 24, 2014
Vernal Skin Care has recently released a product that has earned results paralleled only by clinical professionals. This age-defying microdermabrasion treatment is designed to diminish the appearance of fine lines, acne marks, and skin discolorations quickly and effectively. After three uses of this anti-aging product over the course of seven days, 100% of customers agreed their skin was brightened and 92% reported that the appearance of their skin's texture was improved.
"A lot of our customers don't like to visit dermatological clinics for anti-aging procedures," says George Grey, CEO at Vernal Skin Care. "It's expensive and time consuming…they'd prefer a treatment they can do as part of their daily routine, but that offers the same results." This microdermabrasion treatment does exactly that, and it does so quickly. In just days, 94% of customers reported softer, smoother skin and 82% reported an overall improvement in their complexion.
This special formula uses pharmaceutical-grade crystals which, when massaged onto the skin in a circular motion, gently loosens pore-clogging contaminants and dead skin cells. It also uses lactic acid, which has been known to improve the texture of the skin by simultaneously moisturizing, removing dead surface cells, and promoting collagen growth for a firmer and brighter appearance. Finally, natural botanicals soothe any redness and diminish the appearance of blemishes, creating a glowing complexion. The result is more polished, blackhead-free skin.
About Vernal Skincare:
Unlike some products and treatments that use harsh, skin-irritating chemicals and may require downtime before the skin looks healthier, Vernal anti-aging is a naturally derived formula that works in harmony with the body to help support the skin's natural ability to produce collagen and other proteins. Backed by science, Vernal Anti-aging is packed with age-defying antioxidants and other vital nutrients that protect and support the skin.