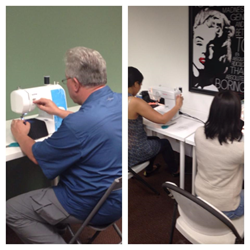 "Sewing can be learned by anyone, even if it is for improving minor area of your current wardrobe" -Toeque-Slyusar
Pasadena, CA (PRWEB) March 21, 2014
The Koffa Design Group recently opened its doors in Pasadena, California to offer fashion design and sewing classes to anyone who has an interest. From teaching classes that show students how to recreate an item they really love, all the way to simply learning how to operate a sewing machine for the first time, The Koffa Design Group teaches the skill of sewing to women, men, young people, and simply to anyone with the desire to learn.
"Many people want to know how to sew but do not know where to start, "said The Koffa Design Group Director of Education and Training Koffajuah Toeque-Slyusar M.A.Ed. "I felt that I needed to offer classes to the public that at times can only be offered at colleges and fashion programs. My classes can be taken by anyone, any type of professional, student, or person who simply wants to learn."
"The key to our classes is providing an understanding of fashion in a short time frame. We encourage practicing, exploring by learning, and improving your personal skills in the area of fashion you are looking to improve on," Toeque-Slyusar continued. "Our small class sizes allow for students to get knowledge that they can later use on personal design projects."
The Koffa Design Group is located at 2525 East Colorado Blvd Suite 112 in Pasadena CA with students who live in or travel from Pasadena, Glendale, Orange County, Inland Empire, Venture, Hollywood, and surrounding cities in the Los Angeles Area. Beyond that, more restaurants are planned. "Our goal is to teach the public the art of design, sewing, and fashion," Toeque-Slyusar said.
##
The Koffa Design Group
2525 East Colorado Blvd, CA 91107
http://www.thekoffadg.com
Phone– 408-475-6332
info(at)thekoffadg(dot)com