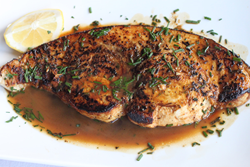 (PRWEB) March 21, 2014
On the first day of spring comes a recipe that is sure to put the 'spring' in the step of any lover of fresh, healthy seafood. Fresh Swordfish Wraps with Avocado and Ginger-soy Reduction is a fantastic pairing of clean flavors that brighten up and showcase fresh swordfish steaks. According to GetMaineLobster.com chef Mac Arrington, "The marinade reduction cuts the richness of the fish and melts well with creamy avocado."
Ingredients include 1 fresh swordfish loin; 3 tablespoons olive oil, split in half; 2 tablespoons soy sauce; 1 teaspoon ginger, minced; 2 cloves garlic, minced; ½ cup cilantro, chopped; ¼ cup mint, chopped; 1 lime, juiced and zested; 1 teaspoon sugar; ½ avocado, sliced; ½ cup spinach; toasted bread or whole wheat wrap (4 slices or 2 wraps); salt & pepper to taste.
To prepare the swordfish, season the fish with salt and freshly ground black pepper on both sides. Combine 1 ½ tablespoons oil, soy, ginger, garlic, herbs, lime juice, zest and sugar in a bowl, using a whisk.
Add into a zip lock bag with the swordfish loin and seal airtight. Marinate in the fridge for at least two hours. Afterward, remove the swordfish from the marinade—and remember to save the marinade.
In a large pan over medium-high heat, with the remaining oil, or better yet, on a grill, sear the swordfish in the pan or mark on the grill for 2 to 3 minutes per side. Remove from the heat and let rest for a minute. Season the fish again with salt and freshly ground black pepper.
In a small pot, reduce the remaining marinade over medium-high heat until it thickens.
Lay out your bread or wraps and layer avocado and spinach on each. Slice the swordfish and portion into the wraps and top with your reduced marinade. Wrap them up and enjoy a nice light lunch, or a beach-body preserving dinner!
For more delicious and easy ways to prepare a wide variety of fish and seafood, visit GetMaineLobster.com.
About GetMaineLobster.com
GetMaineLobster.com, a division of Black Point Seafood and Black Point Gourmet, hand-selects the finest Maine lobster, seafood and beef products for convenient distribution throughout the United States. Their passion is to make fresh, quality seafood readily available to customers across the country, which is why they buy from only the most trusted, well-established suppliers to ensure that they receive the finest products available.
GetMaineLobster.com was selected out of the more than four million small American businesses served by Chase bank to represent its new Platinum Business Checking product for its 2013 national advertising campaign.