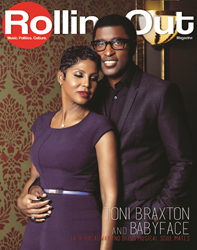 I can't believe I'm going to be a part of this project. I'm happy about it.
Atlanta, GA (PRWEB) March 21, 2014
The names alone conjure up memories in the minds of anyone who loves R&B music and is familiar with the résumés of these two superstars, who have helped shape the genre over the past 25 years. Babyface, as a songwriter, producer, LaFace Records co-founder and artist, is one of the most important figures in the history of R&B and pop music; and in 1992, he introduced the world to Toni Braxton, a beautiful young vocalist with soul and passion who would go on to become one of the defining female vocalists of the 1990s. Today, at the Brooks Atkinson Theatre in Midtown Manhattan, media and fans are buzzing around these two legendary artists as they discuss their latest endeavor together: bringing their undeniable chemistry to the Broadway stage as guests in the hit play 'After Midnight.'
Braxton and Edmonds are both nervous and excited about their appearance in 'After Midnight.' A celebration of the music of Duke Ellington, the poetry of Langston Hughes and the glamour of the big band era in jazz, the play gives the longtime collaborators a chance to strut their stuff on the Great White Way. For Edmonds, it's his first time tackling a Broadway play, and he understands the scope of the music — and the history.
"[With] Duke Ellington, Langston Hughes' poetry, and Wynton Marsalis being a part of it — you knew there was going to be a quality to it," he says. "And because of that it made it easy to say 'yes' to being part of such a play. I can't believe I'm going to be a part of this project. I'm happy about it."
"What excited me most was the music," Braxton tells music journalist Todd Williams. "The fashion, the glamour — [the era] when music was sexy without being too revealing."
Visit rollingout.com to read the interview in its entirety. Be sure to check out the exclusive photo shoot and video footage with celebrity photographer DeWayne Rogers.
About rolling out Magazine:
Rolling out, the nation's largest free urban weekly, is a digital and print magazine that focuses on the black experience in response to entertainment, politics, fashion, culture, sports and lifestyle points of interest. Headquartered in Atlanta, rolling out is positioned as the voice for the African American experience, using its newspaper as a platform in the marketplace to express urgency for education reform, and to document entrepreneurial endeavors and other relevant issues in the Diaspora. For information on rolling out, please log on to rollingout.com.