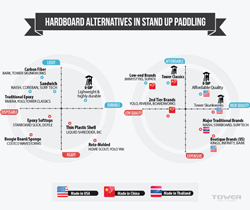 The G-SUP is absolutely going to revolutionize the hard board industry.
San Diego, CA (PRWEB) March 21, 2014
A small team has been working on a big idea over at Tower Paddle Boards, and it's called the G-SUP. Under a strict contractual agreement, the company has been unable to disclose any details about the new product until today.
"The G-SUP is absolutely going to revolutionize the hard board industry," states Tower's Founder and CEO Stephan Aarstol, "It solves all of the recurring problems customers experience with other hard board options out there. It simultaneously solves weight, durability and performance issues, while also addressing affordability through our manufacturer-direct sales model."
The G-SUP is constructed with patented Glass-infused technology, which replaces traditional thermoset composites with polypropylene infused fiberglass. This difference in construction combines the lightweight and performance characteristics of fiberglass with the durability of polypropylene, making the board highly impact-resistant. The G-SUP is 10'6" in length, 31.5" wide, weighs 32lbs, and can support riders up to 260lbs.
"When designing the shape of this board, I wanted it to be something that 90% of paddlers could use and be 100% happy with the performance," says renowned board shaper and Tower's Director of Production Byron Olson, "I've been shaping boards for over 30 years now and I can honestly say that this is one of the best all-purpose designs I have done yet."
With Tower Paddle Boards' manufacturer-direct business model, the company is able to sell the G-SUP for under $1,000. The current price is set at $999 and free shipping within the continental US.
About Tower Paddle Boards:
Tower (online at http://www.TowerPaddleBoards.com) is a manufacturer-direct brand in stand up paddle boarding. Tower Paddle Boards was invested in by Mark Cuban on ABC's "Shark Tank", was named one of the show's "Top 10 Success Stories" by Entrepreneur Magazine, and was featured by People Magazine as one of "Shark Tank's Biggest Winners".