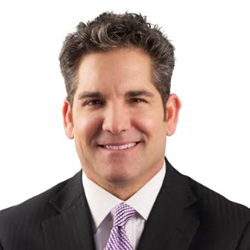 Millennials are a generation forced to become entrepreneurs. Many are starting businesses out of dorm rooms. They need someone to encourage that hustle." -Grant Cardone
Miami Beach, FL (PRWEB) March 22, 2014
New York Times Bestselling author, entrepreneur and self-made multimillionaire, Grant Cardone, is now adding another title to his talents, "Millennial Mentor." His new weekly web stream called "Young Hustlers," which offers practical advice on matters affecting 18-32 year olds, airs each Thursday at 1 pm EST on http://www.grantcardone.com/younghustlers. The show then resides on his popular YouTube channel along with over 1200 other videos of free content designed to help people break out of the middle class and into success.
Cardone's co-host and protégé, 30 year-old VP of Sales Jarrod Glandt, offers the real life example of the power of mentorship. During the show they banter back and forth, field calls from listeners and offer practical advice to loyal followers. Young Hustlers first aired back in November 2013. After both Glandt and Cardone's twitter feeds and emails exploded with praise requesting more shows, the duo knew they were on to something big.
Grant Cardone explains, "a lot of people reading my books, listening to my audio programs, connecting with me on Twitter and Facebook are in that 18-32 age range. They are the most educated generation in American history and are affected by a rough economy. They want advice from a guy like me who communicates in a way they relate to. Millennials are a generation forced to become entrepreneurs. Many are starting businesses out of dorm rooms. They need someone to encourage that hustle."
Jarrod Glandt who has been working closely with Cardone for four years stalked and begged Cardone for weeks to take him on as a sales rep. His persistence earned Grant's attention, which led to Grant hiring him at an intro salary of $3,000 a month. Glandt was sleeping on an air mattress wondering how he'd pay his bills but he paid attention and committed to learning all he could from a successful mentor and suggests every millennial does the same. These days Jarrod Glandt, now 30, is making 6 figures a year and has also started to follow Cardone's advice of creating multiple flows of income via real estate ventures.
Glandt adds, "I meet guys my age during client visits who use our CardoneOnDemand and CardoneUniversity web-based sales training and they greet Grant and I like we're rock stars. Grant was already doing The Cardone Zone radio show that is also streamed and found on YouTube. I thought if Grant is a mentor to me, he could mentor my whole generation through web streams and social media. Why not do a show just for millennials?"
The show tackles topics ranging from money management, debunking old middle class myths that don't work in this new economy, handling debt, and generating income. Cardone recently advised millennials to hold off on paying for college debt until they have generated enough income to be self-reliant (out of parents home) and well on their way in building financial security. He also encourages multiple revenue flows and urges millennials to be an entrepreneur within their workplace creating a skill set that they become known and valued for. The duo even get calls and tweets from Gen Y women urging guys to "man up" because "the women are leaving them in the dust." The show concludes with the sign off found throughout the Cardone brand. "Be great, nothing else pays."
About Grant Cardone:
Grant Cardone is an American entrepreneur, author of 4 books since 2008 including New York Times bestseller 'If You're Not First, You're Last" and Axiom Award Winner, 'Sell Or Be Sold.' He's built successful businesses as a master sales trainer offering two web-based sales training platforms Cardone on Demand and Cardone University. Cardone also has Cardone Acquisitions, a real estate business that focuses on multi-family investment property with a portfolio of over $300,000,000.