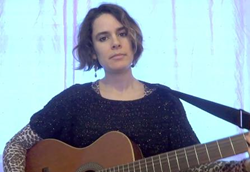 (PRWEB) March 20, 2014
Maria starts off this easy acoustic guitar lesson by explaining the chords that are used to play the song which are; G, C, D7 and Em. The chord voicing's that she uses are all in the open position and are all easy enough to play even if you are a total beginner to the guitar. Next Lua demonstrates the strumming pattern that she uses as down-down-up-up-down-up, played as a combination of ¼ notes (quarter notes) and 1/8 notes (eighth notes), which are counted as 1 (quarter note)-2-& (eighth notes)-3 (quarter note)-4-& (eighth notes). Maria spends the remainder of the lesson demonstrating how to play and sing the song so you can easily play along with her. Guitar TAB's and chord charts for this easy acoustic guitar lesson are available at SongTabs.com.
Van Morrison is an Irish singer/songwriter and musician. He has won six Grammy awards and one Brit award. He was inducted into the Rock and Roll Hall of Fame and the Songwriters Hall of Fame and has released 34 albums over his career.
Maria Lua
Is a folk inspired singer, songwriter, musician and performer, using melody and lyrics to uplift and motivate her audience. At the end of 2012 Maria and her band descended on professional recording studio Shrunken Heads Studios to record 4 songs for her upcoming E.P. "Free Spirit".
About SongTabs.com
SongTabs.com is a great online resource for learning to easily play your favorite songs on the guitar. With several great instructors and a constant growing catalog of songs, everyone can learn to play their favorite songs.