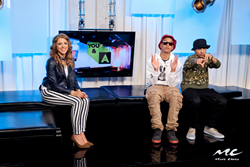 Nick Cannon, N'Credible Entertainment C.E.O stated, 'I'm looking forward to Music Choice exclusively premiering the Wonder Broz new video for 'Drop It'. The video is such an amazing complement to the N'Credible record.'
New York, NY (PRWEB) March 22, 2014
Music Choice, the multi-platform video and music network, today announced it has partnered with Nick Cannon's Ncredible Records to host the world premiere of the Wonder Broz latest video "Drop It" featuring Sage the Gemini.
Nick Cannon, N'Credible Entertainment C.E.O, stated, "I'm looking forward to Music Choice exclusively premiering the Wonder Broz new video for 'Drop It'. The video is such an amazing complement to the N'Credible record."
The Wonder Broz will take over Music Choice Play's You & A show on Saturday, March 22nd at 12 p.m. ET to debut the video themselves. They will sit down with host Clare Galterio to talk about exclusive behind the scenes moments from the video, what it was like to work with Sage the Gemini, and the encouragement they get daily from Nick Cannon. Directly following the show, the video will also be available on Music Choice On Demand for viewing and be in rotation on MC's Music Channels.
Sage the Gemini commented, "The Wonder Broz are definitely one of the hottest duos in hip hop, and we had a blast making the record and video. I can't wait to see the official release only on Music Choice Play and Music Choice On Demand."
Signed to actor/comedian rapper/entrepreneur Nick Cannon's Ncredible Records and Sony Red, the Wonder Broz were born and raised in Long Beach, California. Despite only being in their teens, the high-impact music of brothers Omari "Gennis" Castle, 17, and Akoye "Tool" Castle, 16, has already earned a mind-blowing following. The duo's videos have logged more than 2.9 million views, with the 2010 clip for its catchy "Chitty Chitty" single scoring more than 1.8 million views. At the top of 2014, the Wonder Broz released "Drop It," an infectious single featuring Sage The Gemini. The song is quickly climbing radio charts. The Wonder Broz have toured as an opening act for the New Boyz, as well as Diggy Simmons, Mindless Behavior and the OMG Girls.
Super Producer Jay Nari, stated, "The 'Drop It' record is straight heat, when I created the track I knew The Wonder Broz would take it and make it a hit. I'm so turned up about seeing the official video on Music Choice."
Music Choice is the #1 Free On Demand Network with 1.1 billion annual views. It is available nationally in over 54 million households.
About Music Choice:
Music Choice, the multi-platform video and music network, delivers its music programming to millions of consumers nationwide through their televisions, online and mobile devices. Music Choice programs dozens of uninterrupted music channels; produces originals that feature today's hottest established and emerging artists; offers thousands of music videos; and launched Music Choice Play, the music video, lifestyle and entertainment network for Millennials. For additional information, log on to http://www.MusicChoice.com | Twitter: @MusicChoice | Facebook: http://www.facebook.com/MusicChoice.